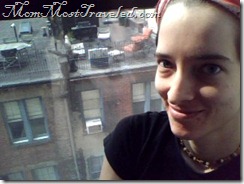 As you might have noticed, I travel a lot.
Once upon a time, in 2010, when my plane started its decent to JFK airport, my ears were in a lot of pain. You know, that is normal when flying. But this time was more severe.
I had a party to attend that night, and I tried my best to have conversations while my ears felt like we were under water.
That night my ears hurt so badly, I couldn't sleep at all. At about 5am I got up and took a shower. Around that time I noticed my ears were bleeding.
As much as I usually try to "tough it out" when it comes to illness, this was new and scary territory.
I went online and used ZocDoc.com to find a walk-in clinic and made an appointment. I did this around 6 or 8 am, on a Saturday, and got an appointment at a clinic on Madison Ave. by 11 am.
The doctor said that he didn't see a tear in my eardrum, but it might be torn, but it is definitely irritated.
He prescribed an antibiotic, nose spray, recommended Motrin, and a decongestant.
After a rest on the exam table (I think that made the doctor nervous) I stumbled around the streets looking for a pharmacy.
In the meantime I felt super weak and had a rest in a cafe in the middle of 9 NYC construction workers. They didn't pay me any attention but I was entertained by their animated conversations and crazy thick accents.
After one false start at some kind of homeopathic pharmacy ("We only have weird stuff" the pharmacist said.), I found a "real" drugstore and got what I needed.
I spent the rest of the day in bed.
Gradually my hearing returned after a round of steroids.
ZocDoc really helped me out of a scary situation. I had no idea how to find a doctor and make an appointment, and I needed help ASAP. It wasn't quite an "emergency" but I was out of my mind with pain! ZocDoc came to my rescue.
That was 2 years ago, and ZocDoc has even more fancy ways to help and advise now.
There is a ZocDoc Facebook page, which often hosts giveaways, a ZocDoc app, and you can search doctors by specialty, city, procedure, and insurance accepted.
I was selected for this sponsored review by the Clever Girls Collective. To learn more about ZocDoc, please visit their website.