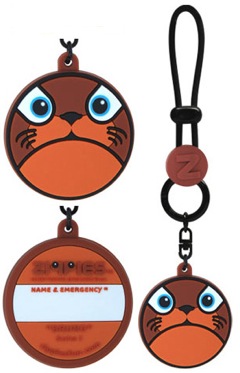 Kids are always collecting and trading something, it seems.
The newest fad that I have heard of is Zippies, "the pals that hang around."
Zippies are round, flexible, characters that have a practical purpose as well you can clip them on to water bottles, lunch boxes, luggage, backpacks, jackets, and other things and they serve as a name label or place for contact information.
Zippies ID tags have one of many different characters on one side with a place for contact information on the other.
This way, emergency contact information (last name and parent's phone number) is with the child at all times.
Zippies are a fun collectable and a fun way to help children learn to be responsible for personal belongings.
I am a teacher and I label everything! I even labeled my own personal stuff like my iPod, computer, my keys…pretty much everything I own has my name on it.
So while Zippies are for kids, I can find grown-up uses for them too! My favorite design is the frog!

Currently there are 10 different characters.
Zippies sell for $4.98 each or $39.99 for the entire limited-edition first series of 10. That would be enough to split amongst your family members. Just don't fight over them.
Order online at www.zippiesfun.com !