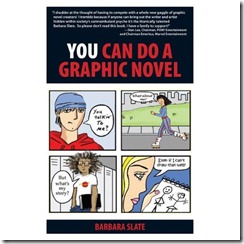 Do you have a child who loves to draw? Jojo has been so inspired by Diary of a Wimpy Kid and his other favorite, Calvin and Hobbes, that he is always drawing and journaling.
Graphic Novels are so popular (finally), maybe your child (or even you!) might want to create one.
If you are a "beginner" aspiring graphic novelist, You Can Do a Graphic Novel by graphic novelist and graphic novel instructor Barbara Slate is a good place to start.
You Can Do a Graphic Novel starts with the basics: the components of a good graphic novel, and covers all aspects beyond, from find a drawing style (even if stick figures is your "style"), to traversing the graphic-novel business
You Can Do a Graphic Novel is illustrated (of course) and seemingly geared toward young teens, although I think readers of any age could find takeaway wisdom from Barbara Slate.