My 4-year-old son, Jojo, is a little, er, "high-strung". He likes to operate at full volume and top speed at all times.
When I heard about YogaBuddies, a brand new bedtime story DVD featuring relaxing yoga routines for children ages 4 and older, I was intrigued but tried not to get my hopes up.
I debuted the YogaBuddies in our home during a mid-morning frenzy. YogaBuddies are designed for bed time relaxation, as they combine bedtime storytelling with calming yoga practices, but on this particular day, Mama needed some relaxation at 10 am.
I told Jojo that this was a special "exercise story" and he was mentally attuned right from the beginning.
The first child "instructor" on the DVD is a little girl with cool yoga pants, and he copied her every move.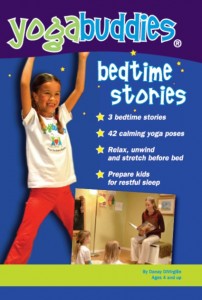 I had never done yoga myself so I too followed along to get some good stretches, and to encourage Jojo's participation.
Each yoga position is introduced through a story being read aloud by an adult female (YogaBuddies founder Danay DiVirgilio). When the children in the story see a mountain, for instance, the "mountain pose" is introduced.
I think this works well because the majority of the positions are named after animals and other things in the natural world.
Jojo DID scoff at one story that used two girls two demonstrate the yoga positions. "TWO GIRLS!" he said, incredulously.
The next story had two boys as the models and then Jojo wanted me to play the part of the second boy.
One thing that I thought of as my mind wandered while viewing the DVD was that it might be neat to have the kids in some abstract animal costumes as they demonstrate positions like the"monkey pose" (with a tail and monkey ears on a headband), the "giraffe pose" (maybe a giraffe print leggings or something), or the "bear pose". It might help the kids better visualize how they are pretending to be a certain animal.
As it is, every child is wearing a YogaBuddies t-shirt and some kind of athletic bottoms.
YogaBuddies is a great way to end the day as it teaches kids how to calm their minds, relax their bodies and settle down for a restful sleep.
One Mom Most Traveled reader will win one copy of the YogaBuddies DVD, ARV $14.99!
1.) To enter to win, visit YogaBuddies.net and leave a comment here telling me something you learned! They have a blog too if you want to search for an interesting fact there.
Please don't just comment with "Enter me" or "Sounds great". That totally annoys me. Those entries are not eligible to win.
One winner will be chosen at random.
This giveaway is open to those with a US mailing address.
This contest will close July 3, 2009, 11:59 CST.
*Contest closed and winner announced!*
Browse more giveaways here, or list your own!