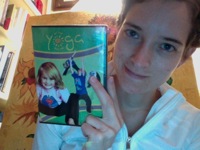 I have reviewed other children's Yoga DVD's before, but I'm SO glad for Yoga by the Dozen.
Yoga By The Dozen is an interactive yoga video for ages 2-6, but as a teacher and a parent, I really benefited from watching the way JoAnna taught, led, and encouraged the kids throughout the class.
I'm definitely going to copy JoAnna's style with my preschool class.
My son Jojo, who is 6, has expressed an interest in doing yoga with me, to the point that he requested his own yoga mat.
I was content to let Jojo just follow along the best he could during MY yoga routines, but Yoga by the Dozen has given me a better idea of how to be an encouragement to him in his practice.
I watched Yoga By The Dozen with my 3-year-old, and found that it had a good balance of slow and fast sequences. Deeds really enjoyed jumping up to change feet during poses like Warrior.
He also really liked the butterfly stretch in the beginning.
"By the dozen" is so named because of the TWELVE different poses that are a part of the program.
JoAnna quizes the children in her class on the names of each pose, then calls a child to the center of the circle to demonstrate the pose, praising them all the while.
Yoga is good for kids because it increases fitness, balance, coordination, and flexibility, helps them to focus, builds confidence, aids in memory and concentration, and nurtures self-expression.
At the end of the DVD, there is a group singing of an original happy song about seeing Light in yourself and others.
If you have the task of teaching yoga to kids and don't know where to start, this is a GREAT resource!