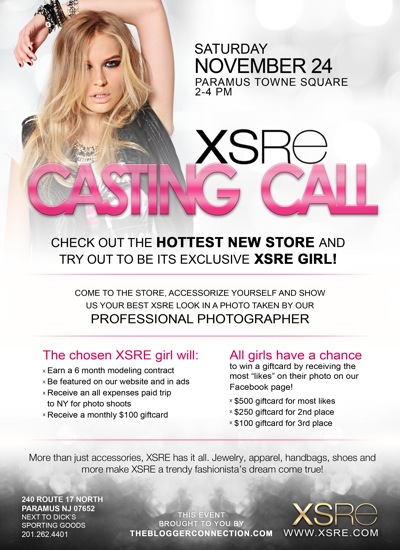 Hey sexy ladies! Hang out with me on Saturday! 
On Saturday, November 24th, 2012, there will be an Open Casting Call for the XSRE Girl in the Paramus Towne Square XSRE Store!
I will be there with some other beautiful bloggers!
Audition to be the next XSRE girl! The lucky fashionista who is the fairest of them all will win a six month modeling contract and become the face of the store.
Product/Campaign: XSRE Girl
Location: XSRE – 240 Route 17 North, Paramus, NJ, 07652
Event Date: Saturday, November 24, 2012
Time: 2:00 pm
Check out the XSRE Facebook page. http://facebook.com/xsrestores!
This post was compensated by The Blogger Connection. I am seriously awesome. Seriously.
Bring yo A-game!