I actually went to a bonafide social event on the 4th of July with real peers and friends my own age, so I wore clean clothes and fancy shoes.
AND I totally contributed these strawberry cake rolls with Red Vines stuck in them, an original idea I conceived and pitched as "firecrackers".
I made my friend Jessica take these photos in her daughter's playroom with my iPod touch. I made sure to cover all of the traditional blogger photo poses.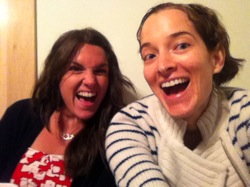 From US Weekly I learned that you are supposed to put one leg forward to make it look long, and lean toward the camera to elongate the neck. So long legs and long necks are tres hawtness.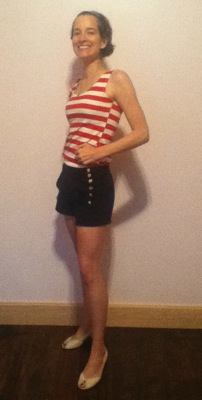 Then this one is the "I'm so fragile yet unaffected" hipster pose where I am pretending that I did not make my friend take the photo in the first place.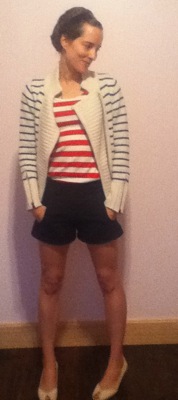 This one? Was an attempt at the pidgeon-toed, looking up at some unknown, yet inspirational object: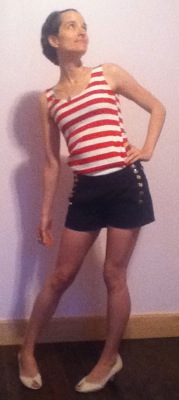 These clothes are:
Stripey dress (yeah it is a super short hootchie dress I have to wear with leggings, but in this cause I tucked it in) is from a random hootchie girl shop in Laos. It was like $12.
Sailor Shorts by French Connection, purchased from Bluefly.com
FRYE Women's Maya Vintage Stud Pump, purchased from Amazon.com
Wool motorcycle sweater, I forget the brand, something with the name New York in it. I bought it from Swirl.
And I also continued the nautical theme with the kids: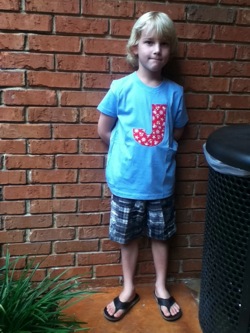 Those were actually supposed to be "wear on your birthday party" shirts, but their dad found them and brought them as the only option to change into after a swimming situation. At least they looked cute.
Get more Wordless Wednesday at Project Alicia, Better in Bulk, Dear Crissy, Five Minutes For Mom, Live and Love…Out Loud,Parenting By Dummies, Seven Clown Circus, Supermom, The Divine Miss Mommy, andAngry Julie. And dig What I Wore Wednesday at The Pleated Poppy!