I saw this new sign when we were driving from across the border from Vientiane, Laos to Nong Khai, Thailand.
The DIP-OFFICIAL CAR lane, for dips!
Obviously it is intended for diplomats, but what an honor to travel through the DIP line!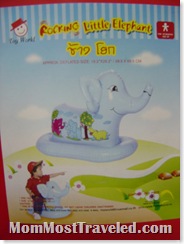 I resisted the urge to buy this "ROCKING Little Elephant" in Thailand. It is inflatable.
SPROCKETS! Deeds needs to learn how to do "jazz hands"!