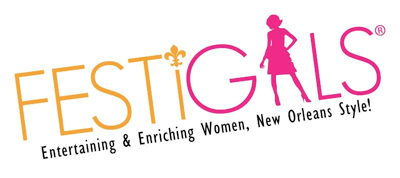 There is a really fun inspirational conference for women coming up at the end of June (June 22nd to 24th) called FESTIGALS. One of the most exciting elements of Festigals by my estimation is that it will be held in NEW ORLEANS! WOOT!
Take a look at the FestiGalsNewOrleans facebook page and you will be as excited as I am about the seminars, workshops and FUN to be had at FESTIGALS.
All of the action is based around Hotel Monteleone, and speakers include Hoda Kotb, Colleen Mullaney, Ti Adelaide Martin, Tonya Fitzpatrick, Cary Broussard, Pamela Arceneaux, Debbie Schmitz, and Sue Jones.
Add in yummy New Orleans cuisine like beignets, a tours in the French Quarter, a Bodacious Bra Auction, Stiletto Stroll parade, and a Jazz experience in the historic Treme neighborhood, and you know you will be talking about the memories made on this weekend for a LONG time to come.
Besides all of the fun/empowering/self indulgent reasons to go to FestiGals, all net proceeds from FestiGals are dedicated to the Cancer Association of Greater New Orleans! So if you go, you are totally doing it for a sweet cause! GO YOU!
You better go to www.festigals.org and get yourself signed up now!
This post was sponsored by FestiGals. I think it sounds fabulous and New Orleans is the bomb dot com.