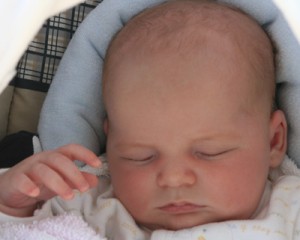 This is a picture of baby Deeds when he was just a few weeks old.
We took an impulse trip to the beach because some friends invited us to stay in their condo for free, and Deeds was so little he spent most of our beach time in his car seat, covered with a thin blanket. The weather was cool. It was September.
As you can see, he was born bald, just like his brother Jojo. And just like his mom, too.
I love Deeds's beautiful curls, most recently photographed last week.
Well, THOSE CURLS ARE NO MORE, because Jojo cut them off Monday morning before school.
I haven't been able to photograph it yet, because I can hardly look at him without feeling a wave of sadness. Luckily there are no bald spots (it could have been way worse), but I miss my little angel cherub ringlets.
So that is how my week is going, but thankfully I can make someone ELSE'S day by letting them know they won a cool prize!
* Tropical Traditions Virgin Coconut Oil giveaway winner is…Congrats to Lois Shores!
* Recaro Vivo Booster Car Seat winner: congrats to comment number 79, subscriber Susan!
* $25 gift card to Storytime Felts winner: congratulations Terra Heck, comment number 15!
* Along Came You book winner: comment 59, Ann Williams!
*20 Easy Ways to Help Save The Earth, congrats to comment number 26, Duncan Beach!
* Nourishing Hope For Autism winner is Emily R!
* Shoes from Smaller congrats to Keitha, subscriber and comment number 131!
* Complete Laundry System woohoo for comment 138, jackie passerini!
* Personalized Book from FreckleBox comment 54 is the winner, Lentil!
* SparkleHearts Natural Body Products now belong to Jennifer M! Congrats!
* 8 Simple Rules: The Complete 2nd Season on DVD congrats to Cassandra!
* NoThrow congrats to Tabitha!
* KidsCards was won by faithful reader, Judy Brittle!
* UV protective Baby Legs from Mom4Life, congrats to Laura B!
* Hip-T congrats to Dree!
If you won something, why not say "thanks" by throwing me a vote in the Blog Luxe awards? Scroll down to the bottom and vote for Mom Most Traveled in the category "Blog You've Learned the Most From"!
Got a giveaway? List it on my now functioning, newly upgraded Giveaway Linky!