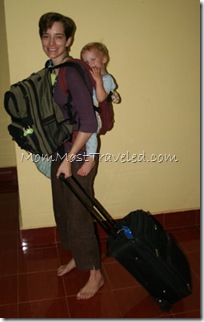 I fly internationally several times a year. My first international flight as a parent was with a seven week old infant. I don't know how the idea was originally planted in my mind, but like many parents I became fixated on scoring the bulkhead row for my baby.
Though I was originally told by the airline that it wasn't possible to reserve the bulkhead row…blabbitty blah blah…I guess I wore them down by persistent and polite harassment.
I used the bulkhead row for that flight, and then again when baby was about four months old.
After that I became disillusioned with the bulkhead.
On my recent flight from Bangkok to NYC, I noticed that the bulkhead rows were crammed with families of toddlers. And they were miserable.
Here is the skinny on the bulkhead row.
Yes, there is a bassinet that can affix to the wall. BUT, did you know the bassinet has a maximum recommended capacity of about 15 pounds, and that it is only about as long as your average Build-a-Bear? It was perfect for my 7-week-old, but by 5 months he was too big. The bassinet is NOT a secure place for your infant during turbulence. It is kind of like laying your baby on a tray table with a five inch rim. I saw two families of toddlers attempting to use bassinets on this flight. Bad idea. That was seriously the "cryingest" flight I have ever been on in over a decade.
There is no where to store your things. You can't put the diaper bag under the seat in front of you for easy access. Everything has to go in the overhead bin. This is a major inconvenience when your child needs to be constantly plied with snacks and other distractions.
There is no way to corral your mobile toddler. The animal-instinct toddler has a clear path to dart out from one wall of the plane to the other, and is steps away from the galley or toilet. When my children were walking but had not yet reached the age of reason (you know, when you can't really tell them not to do stuff and expect them to understand you), it was far easier to keep them penned in if I could position my body between them and the aisles of the aircraft.
In the bulkhead row of an International flight, you are typically inches away from a giant movie screen that is not in your control. So even if everybody else on the plane has their own personal movie screens that they can control and turn on and off, you are at the mercy of the flickering glare.
You think you would have more legroom…but you might actually get LESS legroom in the bulkhead row. Depending on the type of plane you are on, the wall might be a mere 12 inches away from your seat.
The tray tables (and possibly TV screens) on the bulkhead row are built into the armrest. This actually shaves valuable width off of your bulkhead seat, and gives you zero mobility once the tray table is unfolded. Smooshing into your post-baby pooch. I'm just sayin'.
So before you go on a crusade to land the bulkhead you might want to reconsider if your child is mobile or bigger than a Build-A-Bear.
Knowledge is power.