I am taking part in a study in which I record the ways I try to live a healthy lifestyle each day.
I'm keeping record for 10 days. So far it has been 4 days and I thought it would be fun to share.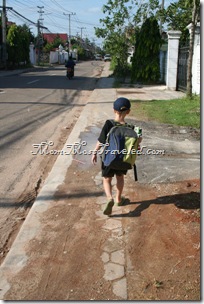 Preface
I walk Jojo to and from preschool. It is only about a block away (4 minute walk when I'm alone, slower with Jojo), but that is 2 times a day I'm walking!
Sometimes I bring Deeds in the stroller or wear him on my back in a special carrier.
Monday, August 31
We had vegetarian Bobotie (South African "meat loaf") for dinner, which contained cooked soybeans, cashews, peanuts, and eggs.
I also made cauliflower au gratin (long story, but I asked for onions and the person running to the store for me came back with cauliflower? What the…?), rice, and steamed cabbage. Oddly my whole family loves the cabbage (two boys, ages 2 and 4, picky eaters!).
I just put it in a Pyrex dish all sliced up almost to cole-slaw consistency, put a few sliced carrots on top, top with freshly ground salt and pepper, then cover it and microwave for about 10 to 12 minutes.
This cabbage dish is a recipe from my Aunt after my Uncle had 6 bypasses (and has diabetes). It has no fat, oil, etc. Just tasty steamed cabbage. Season how you like!
I have been vegetarian for 14 years. I don't cook meat for my family (they all eat meat) but my husband does buy deli meat and I make tuna sandwiches for them.
Tuesday
I made two recipes today.
The first is chocolate chip cookies.
I made some changes to the recipe to make it more healthy (I can't help myself). Along with the one cup of oatmeal was incorporated a mixture of flax seeds, sunflower seeds, corn meal and other fibery stuff.
For the nuts I used 1/2 cup pecans (not the full amount of "nut meats" called for in the recipe).
I also used virgin coconut oil for the fat instead of butter.
These cookies are so so good.
My other baking project today was this copycat "Schlotzky's Deli Bread" recipe that is extremely low fat. I sliced it and froze it and plan to use it to make Panini sandwiches on my Panini press.
One of my fave "old standby" panini fillings is cheese, pesto, and fresh tomatoes. Sometimes I add capers or olives.
Sodium is my weakness.
Summary from today:
Breakfast: Iced "London Fog" latte (Earl Grey tea, milk, water, sugar)
morning "exercise": non-strenuous dancing and percussion instruments with my two year old, to the tunes of Laura Freeman
Lunch: grilled cheese on rye and some home made yogurt
afternoon exercise: walk to school and back to pick up older child
snack: three home made chocolate chip cookies
Dinner: leftover vegetarian Bobotie, grilled cheese with pesto and tomato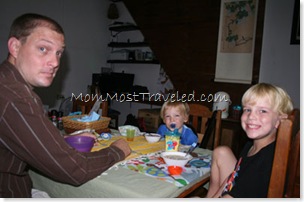 Typical breakfast: family eats oatmeal or scrambled eggs and cinnamon toast. In recent months I haven't had an appetite for breakfast so I go for the huge iced London Fog latte. Probably about 10 ounces of milk.
2 year old Deeds outside for late afternoon fun (finally cool enough to go outside):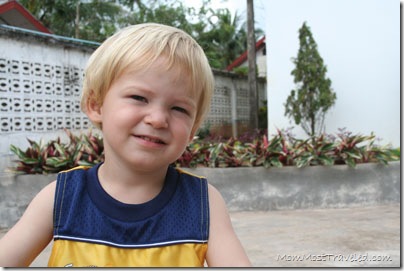 What I see as flaws in my healthy lifestyle: too much sodium, not enough exercise
Wednesday:
Skipped breakfast. Yeah I know. I even thought of how it was going to be embarrassing when I told you guys. Kids had oatmeal. Hubs walked Jojo to school so I didn't do the morning walk (4 minutes each way).
Lunch was a Panini on that "schlotzky's* bread I made the day before. Filling was Edam cheese, tomato, pesto, and a few green olives. I also had a few bites of left over bobotie and 3 cookies (the ones I made) for dessert! I think it was 3. Maybe 2.
afternoon: walked to pick up child from school (and back)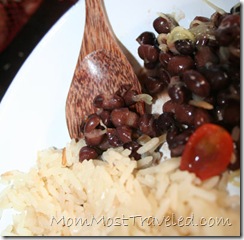 Dinner: Central American Style rice (involves frying the rice in oil before cooking) with black beans, sauteed onions and garlic. I had it with grated cheese in a burrito and served it to the kids without the tortilla. My usually picky eaters love this meal.
Thursday 9/3:
Breakfast: Earl Grey iced latte
walked child to school and came back home
lunch: leftover black beans and rice, a couple of cookies (I made a 2nd batch!)
I also had about 1/2 a can of 7up at lunch. But the Deeds started drinking it so I threw it away :). I didn't want him to have that.
I rarely drink sodas but Nick brought it home the night before for a "treat" for me.

Afternoon: walked to school and back to pick up child, carried 2 year old on my back in a carrier this time
snack: when the kids got home from school. I had more cookies with them.Drank skim milk.
dinner: home made veggie soup, inspired by Kathleen.
Mine contained carrots, tomatoes, cabbage, a can of kidney beans, some o-shaped pasta (the package says "analina" pasta. We each had a piece of rye bread from the local bakery as well.
8pm snack: microwave popcorn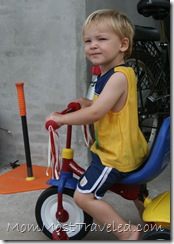 Friday:
Breakfast: scrambled eggs and toast
Lunch: A salad of avocado, rice, and tomato. I brought my lunch to school, as I was working Friday as a substitute teacher.
Afternoon exercise: walked to and from school to get Jojo.
Went and got a massage. Hey, that is healthy!
Dinner: date with Nick to an Itallian restaurant. We each have two piece of bruschetta. My entre was some kind of salmon dish with home made tagliatelle.
I started eating fish a couple times per month after I unexpectedly and frighteningly lost a great deal of weight last Fall.
Other general points:
I only take a multivitamin sporadically. I just feel that I don't NEED that much, maybe I'm over doing it when I take it every day.
Plus I think it makes me break out.
I do take Omega 3*6*9 fish oil capsules, and give my kids Nordic Naturals DHA fish oil capsules.
I'm in a phase of life with two little ones where I don't get as much sleep and long relaxing walks as I would like. But this will pass.
I definitely could floss more
Question: What do YOU do to maintain a healthy lifestyle?