You GUYS! Everybody! Clap! EVERYBODY CLAP!
I have spent years rending my clothes, putting sack cloth on my loins and moaning. But rejoice-a-lujah, 2016 is THE year that it is restored to me the YEARS that the locust hath eaten! (I was raised Southern Baptist, we get scripturey in times of powerful emotion).
Proflowers asked me if I had anything to celebrate this month. YES, Proflowers, I do! Please send me two dozen roses in a champagne bucket with French words on it so that we might commemorate these milestones.
Firstly, and perhaps the most unimpressive on paper, is that I COMPLETELY STOPPED GIVING A HOOT. This is huge, having been a wife, and a mother, and then an unloved girlfriend, and then a jobless laid off person, I was getting used to bowing to all kinds of whims, save my own. But when did my whims get bowed to? The 32nd of Nev-vember! I gotta look out for Number One, that's me! That's The Can Can! That means not feeling the least big guilty for not doing the thing someone else wants me to do, because I put myself first.
GOOOO, MY WHIMS! GO! *emotional toe touch*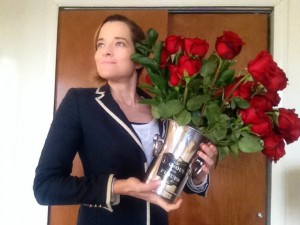 Secondly, I AM WALKING IN NEW YORK FASHION WEEK. Yeah, yes I am a model. To all of the people in my hometown who told me I had a huge forehead (ahem, Tyra Banks calls it a FIVEhead, and it sounds like a GOOD thing when she says it), or that I was "not pretty, just plain!" (actual quote), guess why I looked different? Because I was the only model in our class. A cauliflower in a sea of broccoli. A monkey in a field of cows. A rock. An island.
I never actually cared that no one thought I was pretty (A rock feels no pain. And an island? Never cries.) But I do think it is unfortunate that the words that others spoke to me were designed to make me feel like I was lacking something. I know lots of little girls are made to feel that way, and lots of women too. Not cool, guys. Not cool.
Being a model in one of the biggest fashion events in the world…as a full grown woman, and not a 17 year old? Winning.
I also started THE BEST JOB OF MY LIFE on February 1st. I am treated with respect, and one of the job perks is free lunch every day. On the first day of the job I enjoyed salmon teriyaki (#WelcomeToWinning indeed), and it took so much self restraint to not act like it MADE MY LIFE (it did, in fact, make my life. Be cool, CanCan, be cool!).
If you have something to celebrate, DON'T WAIT FOR SOMEONE ELSE TO CELEBRATE YOU.
CELEBRATE YOURSELF! And #WelcomeToWinning! I love it here!