Are you already planning holiday travel? How are you going to keep your kids entertained on the way to Thanksgiving Dinner with the relatives?
Won't your child want to pack every toy? There is only so much room, plus you have to bring your casseroles! And/or venison! Or moose, I don't know where you live.
VTech Electronics has introduced a new line to toys that combines dinosaurs, vehicles, and the VTech technology that we all love!
Switch & Go Dinos feature electronic elements that bring the toys to life…and its not just the same repetitive thing. 
Nay. Each toy has OVER 70 SOUNDS AND PHRASES. Yes! Woohoo! This is good news to parents AND kids!
Look at this photo: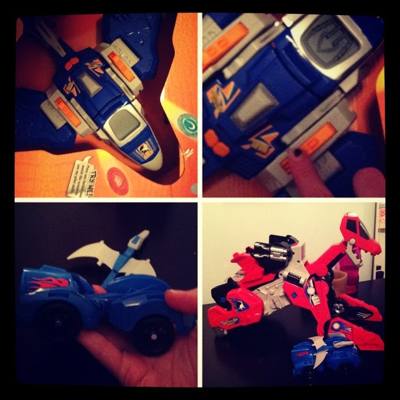 In the top two photos is SPAN the Spinosaurus. Now this is a super cool FIGHTER JET that turns into a Spinosaurus.
This is designed for ages 3 to 8. I LOVE it because it is EASY to transform from Jet to Dino and back. Don't you hate it when a toy is too difficult for your kid to manipulate, and you end up doing all of the "transforming"? Boo that!
You also get food discs and a cute little baby dino that you can rescue with a crane, cage, and rescue lift.
When you transform Span into a Dino, there is a trigger you can engaged to make him chomp and roar.
…
The bottom two photos in my composite (above) are Brok the Brachiosaurus Dinosaur. This one is HUGE! It has a little car that comes with it, and the little car launches a tiny Pterodactyl into the air. I launched that thing repeatedly, sometimes by accident, and I give it my mom safety seal of approval. The pointy bits are really flexible and it launches with force and speed, but doesn't go very far. Win!
See how the blue car is the size of my hand? Well the red Brachiosaurus is giant. Which is pretty sweet.
In vehicle mode, Brok the Brachiosaurus Dinosaur is a car carrier. In dino mode, this Brachiosaurus move his feet when you push him, and moves his neck when you press the buttons. Too cool. When you press the right button, the dinosaur has active eyes. Or if you are in vehicle mode, pressing the button makes a little driver on the LCD screen.
Oh, and batteries are included with the Brok the Brachiosaurus Dinosaur. Yes!!!
These are all really clever and well thought out toys!
Attila the Ankylosaurus is bound to be a hit because he/she transforms into a construction vehicle. As a construction vehicle, you get the fun of a tow hook and heavy duty dump trailer.
As a dinosaur, Attilla is equally delightfully destructive with a wrecking ball tail!
I have been playing with these by myself, and I plan to give them to my 5 and 7 year old for an October birthday and for Christmas. I predict that these will be the big hit of the year!
Visit facebook by October 1 to enter the The VTech Show and Tell with Switch & Go Dinos Contest:
https://www.facebook.com/vtechtoys/app_331868316907110
One grand prize winner will get:

Please see official rules for more information.
"I have received VTech Switch & Go Dinos to facilitate my review."