Virtual Piggy is the safest way for children to save, spend, and give online.
This year, for the first time, Jojo (age 8) had saved up $20 that he wanted to spend on Lego.
The tooth fairy had been kind to him.
I took him to the Lego store thinking that he could probably find something there. To my horror, $20 buys Jack Squat at the Lego Store, so I told him we would go to Target instead. 
He wanted to buy 2 sets for $10 each. At the Target store we found only one set under $11. So we went home and searched online. 
Did Jojo have a way to pay for things online? No. No he did not. 
Enter VIRTUAL PIGGY, a way for kids to shop online without having access to your credit card.
A parent registers their account, providing information such as their preferred credit card for future purchases, and a shipping address. Then, the parent can create accounts for each of their children and establish detailed parental controls (such as approved merchants, transaction limits, levels of transaction approvals). Because financial and shipping information is stored in the parent account, the child never has access to it. The child is then able to check out at Virtual Piggy merchants, using only their username and password.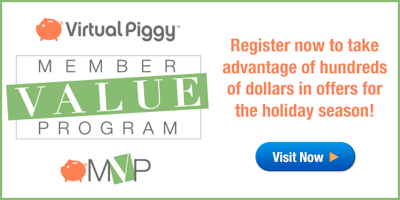 This is a great way for children to feel independent, like the way Jojo beamed with pride when he handed over his very own money in the check out line for the first time…but it also protects your information.
Your credit card information is kept under our PCI-DSS Level 1 Certified security, the highest level available.
Because this information is stored under your parent account, your child never has access to it.
You can set monthly allowance amounts, savings targets and charity goals.
You also have the option to require approval on every purchase your child makes, or just some of them. You can set a maximum limit per transaction, per day or per week, or restrict which merchants your child is able to shop at.
The child has to balance spending and savings goals, and can always see their purchase history. By putting your child into a real world environment where they're able to make their own purchases, you're giving them their first experience with managing a budget while holding onto the reigns yourself!
Check out Virtual Piggy on facebook and @FollowPiggy on Twitter!
This video is sponsored by Splash Creative Media on behalf of Virtual Piggy.