Welcome to our Tea Party celebration! So far this week we have been given the chance to win a watch, a hoodie, some tea, and a purse. If you haven't entered yet, go ahead! I'll wait.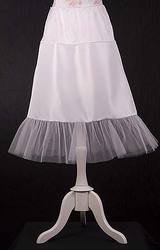 Today I am sharing with you a fabulous find called Vintage Hem!
Vintage Hem is an innovative wardrobe must-have that allows you to embellish your hemline while also creating layers and adding length to skirts and dresses!
This means that you can wear trendy clothing without showing too much leg.
It also means getting multiple looks from one piece of clothing, which appeals to my thrifty side!
Wearing my Vintage Hem with a familiar old skirt brings a whole new round of compliments and questions. "Where did you get that skirt!?"
I have the Have a Ball slip (pictured, in white) from Vintage Hem:

With Vintage Hem's slip, Have a Ball, a woman can make any dress fit for a party. This slip has a gathered, double layer of tulle that flairs out from underneath your a-line dress or even a sassy pencil skirt. Should the need arises to dress for an impromptu celebration, you will be prepared to rejoice in style with your Have a Ball slip.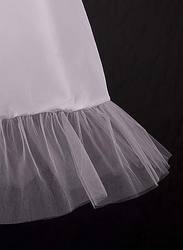 I will confess that I am not very confident in mixing and matching clothing items to create different looks. It is one of those things that seems to come effortlessly to others, but when I try, it never looks quite right.
Vintage Hem makes it easy for people like me! I know how to put on a slip, and that is really all it takes! Hooray, instant fashion!
My wardrobe can always use a little extra glamor! I think THIS is the next on my wish list!
Vintage Hem is giving a Vintage Hem slip to one Mom Most Traveled Tea Party guest!
To enter, visit Vintage Hem and comment here with the name of the slip you like the most! There are some great FALL designs over there right now, and even some sale items!

One winner will be chosen at random.
This giveaway is open to those with a US mailing address.
This giveaway will close on November 23, 12 midnight.
*Contest closed! Congrats to Amber!*