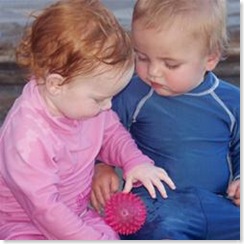 Since we travel often into tropical climates, I take UV protection very seriously. It didn't take me long to realize that it is often quite difficult and time consuming to put sunscreen on a toddler and preschooler every time they want to go outside, so now I am a big fan of UV protective clothing.
UV Skinz make sun protective swimshirts that look cool and have a UPF rating of 50+, blocking out over 98% of the sun's harmful rays.
Sunscreen can be tricky to use, since you have to reapply and make sure you don't miss a spot; plus some sun screens contain harmful chemicals, and those with sensitive skin might have a reaction.
UV Skinz actually don't contain any chemicals, but achieve UV protection by the tight weave of the fabric.
Wearing UV protective clothing helps protect people of all ages from sunburns, sun damage that causes premature aging of the skin, and skin cancer.

In comparing UV Skinz to another brand of UV protective clothing I have used, I found the fabric of UV Skinz to be much softer and more breathable for the skin. UV Skinz are truly high-quality garments.
They are comfortable and practical; there is even a silk-screened patch on the inside neck area with a space to write your name so you don't lose your UV Skinz!
The colors are stylish and also very saturated. In our other UV protective clothing, you can see bits of white in between the ribs of the fabric when it is stretched. UV Skinz are smooth and don't have ribs because the weave is very tight, and the colors are the same no matter how the fabric is pulled.
Each top comes with a cool silicone bracelet. Deeds's 24 month sized shirt came with a cute itty bitty one that glows in the dark!
In summary, UV Skinz are awesome, stylish, well-made, good for your health, and available in size 6-12 months all the way up to 4XL adult! So you really don't have an excuse not to get one!
Through the end of June, use discount code 09SUMMER15 to get 15% off anything you buy at http://www.uvskinz.com!
That reminds me, my entire family is equipped with UV Skinz, except for me! I need to get on board!
UV Skinz is generously giving away one clothing item to a Mom Most Traveled reader! If you win, you get to pick your prize from http://www.uvskinz.com!
1.) To enter to win, UV Skinz and leave a comment here with the exact color/style and size you would like to win!
Please don't just comment with "Enter me" or "Sounds great". That totally annoys me. Those entries are not eligible to win.
One winner will be chosen at random.
This giveaway is open to those with a US mailing address.
2.) Email subscribers get an extra entry for as long as their subscription is active.
Already a subscriber? Leave me a separate comment on this post to let me know you're interested in this giveaway.
Want to subscribe? Just click here: Subscribe to Mom Most Traveled by Email (Only verified subscriptions are entered for all the giveaways.)
3.) One extra entry for every social bookmarking site you submit this post to (examples: Digg, StumbleUpon, posting on Facebook). Leave a comment for each with your user name.
4.) Twitter about this giveaway (include a link to this page, @UVSkinz and @MomMostTraveled ) and comment here with your Twitter name.
This contest will close June 30, 2009, 11:59 CST.
*Contest closed and winner announced!*
Browse more giveaways here, or list your own!