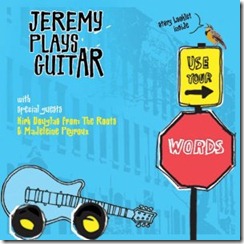 As a preschool teacher, I say it dozens of times a day: Use Your Words!
Often I have to supply the words for them to repeat: "I'm sorry." "I wasn't finished playing with that."
 Use Your Words is a collection of 14 original songs for children ages 2 to 6 designed to give children the words to use to communicate their feelings and to handle everyday social situations.
The first track on Use Your Words is "House Rules," and it begins with and admonition against fighting, and no throwing! Anyway, we don't do that in our house, 'cuz we don't live in a zoo!
Other extremely timely messages are imparted throughout the entire Use Your Words album, with song titles like:
"Wrong's Alright" (2:42)
"Your Turn, My Turn" (2:43)
"Differently" (2:20)
"Use Your Words" (3:41)- and you'll be heard!
"You'll Be Fine" (2:50)- when your scared and nervous trying something new.
"I Meant To Do That" (2:26)
"Jump So High" (2:12)
"That Food Makes Me Sick" (2:17), about how to tactfully decline when offered a food you don't like.
"Say Hello" (2:07)
"That Hurts My Ears" (2:20); what to say when you are in need of quiet.
"Let Me Know" (2:34)
"Keep My Cool" (3:37) and
"HappySadSillyMad" (1:37)
I think this is a great CD and would be an asset to an Early Years classroom or to parents of preschoolers.
The lyrics are catchy and easy to remember; how cool that kids can learn social graces through music!
I am going to share Use Your Words with my 4K teacher colleague. She will probably want to steal it (she covets all of my sweet tunes); I will have to tell her to download her own!