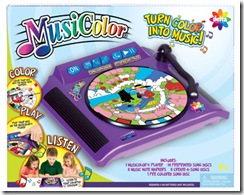 Lots of children enjoy coloring, but MusiColor adds another level of interest by turning colors into music notes.
The MusiColor is like a record player, but the "records" are paper discs that your child can color.
Each of the included MusiColor Markers represented a note on the scale (yellow is "C", for instance). When the paper discs are colored with the MusiColor Markers and then played on the MusiColor player, you can hear the song you "composed" by coloring!
the Musicolor music player consists of a rotating base and an arm for reading the music discs, much the same as a DVD player reads a DVD. The arm scans over the colored areas of the music disc rotating on the music player, reads the color and translates it to sound. The player also has three sounds: piano, violin and trumpet.
MusiColor comes with 14 pre-printed song discs (a color-by-number affair that results in favorite children's songs such as I'm A Little Teapot), and 5 create-a-song discs for free-style composing.
After you complete all of your discs, you can purchase a 20 pack of create-a-song discs for more fun.
Jojo enjoyed coloring his music, and I was nostalgically excited by the "record player" appearance of the player.
I think we could have lots of fun with this on a playdate or extended family gathering.
I would love to see a classroom pack or other options for using MusiColor with a large group of children.
I'm a classroom teacher and my students don't go to any specialist lessons. Therefore it is up to me to plan their physical education, music, and movement activities. I'm always looking for fun ways to make music accessible to young children.
MusiColor is a 2010 Toy of the Year award finalist (winners announced next week!).
Thank you to Delta Creative for sending me a sample of MusiColor for this review.
Enter to win your own MusiColor!
1.) To enter to win, leave me a comment about what song you would like to see "in color"!
Please don't just comment with "Enter me" or "Sounds great". That totally annoys me. Those entries are not eligible to win.
One winner will be chosen by random number generator.
This giveaway is open to those with a US mailing address.
2.) Email subscribers get an extra entry for as long as their subscription is active.
Already a subscriber? Leave me a separate comment on this post to let me know you're interested in this giveaway.
Want to subscribe? Just click here:  Subscribe to Mom Most Traveled by Email (Only verified subscriptions are entered for all the giveaways.)
3.) Twitter about this giveaway (include a link to this page and @MomMostTraveled ) and comment here with your Twitter name.
4.) Blog about this giveaway, including a link to this post. Leave me a comment with the link so I can check your post!
This giveaway will close on February 15, 2010, 11:59 pm EST.