In January I went gluten free. And dairy free. Oh and I'm already a vegetarian for the past 16 years.
I haven't tackled gluten free baking. I have tried pancakes with rice flour, and that was a fail.
Tropical Traditions is one of my favorite companies; I use their Virgin Coconut Oil EVERYDAY as both a food product and a body product. I use it for moisturizer and even put it in my hair.
Tropical Tradions has an array of gluten free products!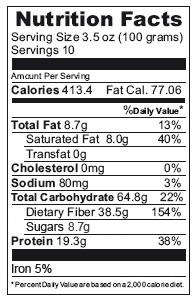 While some of these don't meet my needs as a vegetarian (lamb…is made of lamb meat), I am really excited about the Organic Coconut Flour!
It tastes yummy and healthy, smells delicious, and is safe for a gluten free diet or a paleo diet.
The texture is way better than rice flour. I love that Organic Coconut Flour has so much protein, with 19.3 grams per serving! Awesome! I noticed that some people put it in their smoothies to get those extra nutrients. I haven't done that, but I might try it for my kids.
On the Tropical Traditions website, they have all kinds of recipes that use Organic Coconut Flour, including (brace yourselves, my gluten free bretheren!) PIZZA CRUST!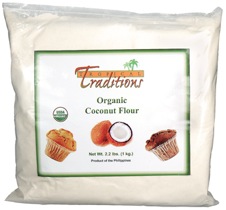 Here is a recipe that one of my "Paleo" diet friends sent me. Paleo is a good term to search if you are avoiding dairy and gluten.
Paleo Diet Coconut Cake Recipe
Ingredients
2 eggs
1/3 cup olive oil
1?2 cup honey
1cup coconut milk
1tsp 100% vanilla essence
1 cup almond meal
1?2 cup Organic Coconut Flour
1tsp baking powder (not paleo)
1?4 cup desiccated coconut
Instructions Pre-heat oven to 350 F/180 C.
Cream eggs, oil and honey in a large bowl until light and fluffy.
Add coconut milk and vanilla essence.
Add almond meal, Organic Coconut Flour, baking powder and desiccated coconut, combine well.
Line a loaf tin with baking paper and pour in coconut mixture.
Place in oven for 50-60min or until cooked.
Test by inserting a knife into the middle of the loaf, if it comes out clean it is cooked through.
NOTE: If you would prefer not to use baking powder, separate 2 eggs and beat the egg whites until stiff peaks form, then fold into the coconut mixture. This will help in aerating the bread.
…
First time Tropical Traditions customers can use THIS Mom Most Traveled referral link to receive a free copy of the book Virgin Coconut Oil: How it has changed people's lives and how it can change yours!
1 Organic Coconut Flour – 2.2 lbs.
Enter to win your own bag of Organic Coconut Flour!
1.) To enter to win some Organic Coconut Flour visit Tropical Traditions and leave a comment here with another of their products you would like to try.
Try to show that you actually did visit the site.
One winner will be chosen at random.
2.) Email subscribers get an extra entry for as long as their subscription is active.
Already a subscriber? Leave me a separate comment on this post to let me know you're interested in this giveaway.
Want to subscribe? Just click here:  Subscribe to Mom Most Traveled by Email (Only verified subscriptions are entered for all the giveaways.)
3.) Twitter about this giveaway (include a link to this post,@TropTraditions and@MomMostTraveled ) and comment here with your Twitter name. (once daily)
4.) Blog about this giveaway, including a link to this post. Leave me a comment with the link so I can check your post!
This giveaway is open to those with a US or Canadian mailing address.
This contest will close on June 20, 2011, a midnight CST.
Winners will be notified by email and have 72 hours to respond.