For the first time since Deeds was born, Jojo and I have set out on an adventure, just the two of us.
The last time we traveled without my husband, it was our epic flight from US to Southeast Asia with Jojo, myself, and Deeds.
We flew from Laos to Bangkok, where we each had a massage during our layover. I have never done that before, and it was just the ticket!
The massage also involved taking a shower before and after. I really feel repressed on those long international flights because I can't take a shower. So being able to hose off just an hour before boarding was totally a dream come true!
I only had about 200 Baht left after that and the tip, so Jojo had a Dairy Queen hot dog (80 baht) and I got a pretzle from Aunt Annie's (49 baht). The BKK airport has changed SO much since our first trip 8 years ago. For the better!
Thai Airways retains it's positive impression on this latest journey. From Laos to Bangkok I was presented with a vegetarian boxed meal, and the food between BKK and LAX was plentiful and delicious.
We had personal tv screens with video and games on demand. And this was in economy class!
I didn't check any luggage, so after we landed in LAX and waited for the FBI to escort one of the passengers off in handcuffs (don't know the backstory there!), we zipped through customs very quickly and beat it to the JetBlue terminal.
We waited a few hours to board, during which I paid $8 and some change for 6 pieces of chocolate candy. I feel bitter when that happens. But I still have 3 orange creams I'm hoarding for later.
This was my first JetBlue flight and it started off a little stressful because Jojo and I were in two separate middle seats. I wanted to ask the girl on the aisle to switch with one of us, but she slammed back a plastic cup of beer and promptly pretended to sleep without ever establishing eye contact.
Eventually a well traveled middle-aged coupon saw my plight and offered to switch with me on their own. I'm really grateful that the husband, who had really long legs, took my middle seat so that Jobes and I could sit together.
The JetBlue flight itself was nice! It was a red eye from LAX to NYC. They passed out packets of sleep masks and ear plugs (cute!), and we got to choose from a variety of complementary but healthy snacks. I loved my plantain chips!
On JetBlue, the selling points are "increased legroom" and each person has a screen for TV on demand (free) or movies (extra fee applies). I watched some Animal Planet  and TLC without the headphones. You are allowed to use your own headphones but Jojo was sleeping on me so I couldn't get to them.
When we landed in NYC, Jojo and I made our way through the new JetBlue terminal (which is fancy with "power stations" to charge your laptop or cell phone, and a play area for toddlers with FisherPrice toys).
Foremost on Jojo's mind was the JetAdventure donut breakfast that was a part of our press trip to Atlantis!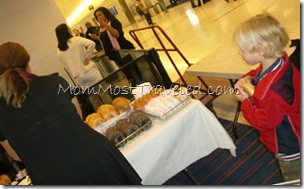 He had like 6.
Then, we got to meet a celebrity: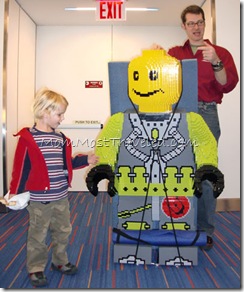 LANSE! Lanse is a huge Lego diver made of, um, Lego. He was on his way to his new home, inside a giant aquarium in the Atlantis hotel.
That guy behind him is his creator, a veritable Master Builder. Seriously. That is his official job title.

Lanse flew on the plane with us. I like how that guy in the bottom left of this picture is totally not appreciating Lanse's majesty. He is 5 feet tall and weighs about 120 pounds.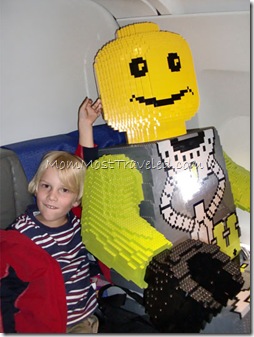 We got goody bags on the plane with copies of the latest Lego Club and Lego Club Jr. magazines, one of which was 3D!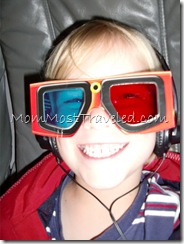 And before we landed in the Bahamas, Mara Gorman, aka The Mother of All Trips, and I managed to pose for a Laviator photo.
How do I look for not having slept in more than a day, and crossing countless time zones?
The first thing we did in the Bahamas was change into our swimsuits and have a fabulous shallow water dolphin encounter at the Dolphin Cove in the Atlantis hotel complex!
We weren't able to bring our cameras on the experience but I should be getting pictures of that soon!
Jojo loved it so much, he was being a dolphin before it was over.
I paid my own airfare from Asia to LA, but JetBlue, Atlantis, and Lego invited me on this experience as their guest and are covering my other expenses. As soon as I get another free moment, you will hear more!
One more day in paradise!
Our other Bahamian adventures:
Marine Life Exhibits at The Dig
Making and Doing at Atlantis Resort
And More Swimming with Dolphins!
Other Atlantis Adventurers:
Bump Alison (TheBump.com)
Mara Gorman (The Mother of All Trips)
MomCentral, The DeBroff Brief
Mommy Niri
MomTrends
Mom Most Traveled
NYCity Mama
Boston Mamas
Cool Mom Picks
The Daily Grind of a Work At Home Mom
Lil Sugar
CC Chapman
Mocha Manual
Parents Magazine Goody Blog
Yummy Mummy