I got a cool new "shawl-scarf" from Fraas, and it is just the thing for keeping warm in a chilly airplane cabin, without adding a lot of bulk to your carry-on bag.
You can wear it as a shawl, or also a scarf. Mine is black like the one in this photo. You can learn about Fraas at http://www.fraas.com/en, but this shawl-scarf will be available at speciality stores only, at $66.
While we are talking about travel, I have to brag about how awesome my Orthaheel Women's South Beach Thong Sandals were when I was in Jamaica last month.
Oh also, I want to brag again that I was in Jamaica last month. Heh.
Don't look at my face because I look like a griffin, but check out the comfy sandals in this photo!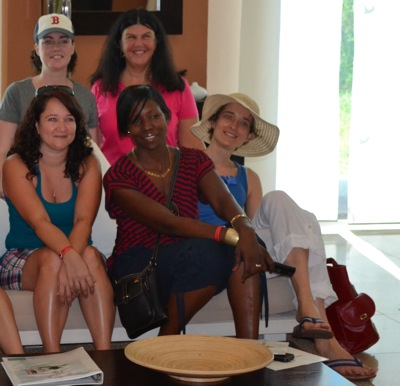 This summer I had some issues with knee pain and swelling, so I stopped wearing unsupportive shoes like flip flops. But Orthaheel sandals have an orthotic footbed that realigns foot and ankle to a natural position, relieving foot and lower body pain. T
he EVA midsole is also light and shock-absorbent. Win!
Since I was in the Caribbean, I brought along my Clay Wrap Bracelet by Calypso Studios, Inc. I love the wrap-style bracelets, and Calypso Studios, Inc. has several different kinds. My favorite is the style with glass beads.
I also used one of the new Shag Bag wristlets by Calypso Studios, Inc. to store my ever growing headband collection while I was on the road.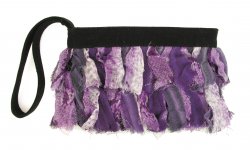 The bags are made out of recycled scarves, so they are distinctive and smart.
And I have to confess, that ALL summer I have been using Ouidad's Love Your Curls Kit.
Yes. I have curly hair. I keep it short because it gets so CRAZY and crosses the line from curly to frizzy without warning.
Ouidad's Love Your Curls Kit provides everything you need in a convenient travel friendly size and helps me tame the beast.
The Ouidad Love Your Curls Kit includes: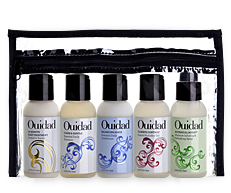 Ouidad Clear & Gentle Shampoo (2.5 oz) An extremely gentle shampoo for normal or chemically treated hair An all purpose, low foaming, low pH cleanser that offers your hair the essential nourishment it needs Hair is left looking clean, fresh, and healthy using a formula that is safe even for color treated hair
Ouidad Balancing Rinse Conditioner (2.5 oz) A daily conditioner that detangles, fights frizz, and provides the proper protein balance to revive dull or damaged hair Made for daily conditioning , it will not build up or weigh hair down Special detanglers help prevent the hair shaft from overstretching, while a blend of wheat protein and vitamins smooth and soften strands for optimal manageability and silkiness
Ouidad Climate Control Gel (2.5 oz) A must have styling aid that works with the humidity to be the ultimate frizz preventer. Wheat Protein complex has a shielding effect on the hair that "breathes" with the humidity, protecting the hair shaft and helping to prevent hair from expanding Amino acids and vitamin A nourish and hydrate hair leaving it touchable, manageable, and full of shine.
MY FAVORITE: Ouidad Botanical Boost Spray Conditioner (2.5 oz) A lightweight detangler and refresher that nourishes and revives curls The blend of proteins and botanical extracts preserves moisture, prevents frizz and enhances shine giving your hair an instant "botanical boost" throughout the day or in the morning to refresh your curl pattern without rewashing Free of oils and waxes so it won't weigh hair down, it is infused with aloe vera to promote hydration and keep tresses tame and smooth
Ouidad Deep Treatment Conditioner (2.5 oz) Effectively penetrates hair to bond with the cuticle, leaving hair revived and restructured for enhanced performance
The Ouidad's Love Your Curls Kit is available on Ouidad.com for $25!