If you can't take your child on a trip around the world, you can still give them a taste of globe-trotting with Little Passports.
Little Passports is a fun subscription service that delivers adventure right to your mailbox.
Geared toward children ages 6 to 10 years old, each thoughtfully personalized package contains an adventure letter written by traveling friends Sam and Sophia, fun souvenirs, activities, and access to the online "Boarding Zone" full of games and fun things to do.
The first package to arrive is encased in a darling cardboard suitcase, which Jojo now uses to house his favorite things (like Star Wars action figures).
Jojo was excited to have his own "passport" that he could put "stamps" (stickers) in, just like he has seen government officials do each time we have crossed a border.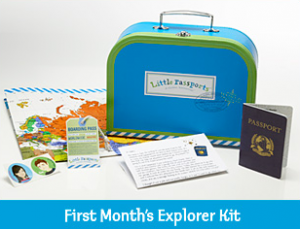 He listened as I read the story of Sam and Sophia and their magic scooter, and I tried to show him various places he might be familiar with on the colorful world map.
When the second package arrived, I couldn't wait to give Jojo HIS very own mail.
Our "monthly adventure kit" was from a trip to Brazil. It contained a lovely large amethyst (because amethysts are mined in Brazil), a small wooden puzzle of a Toucan, a boarding pass, passport stamp, photos, and a letter from Sam and Sophia.
Jojo was really thrilled with the amethyst, because it is Nana's favorite stone. When we showed it to her she was amazed.
It is so neat to get "souvenirs" in the mail from Sam and Sofia. Even I learned something new; amethysts are mined in Brazil!
I would have been over the moon to have a subscription to Little Passports when I was a child. I actually collected world flags.
Subscribing to Little Passports comes at a cost of $10.95 per month. That price includes shipping; I think that is a pretty good deal.
Little Passports is committed to helping improve the conditions of children around the world. A portion of the proceeds of your subscription will be donated to select charities we believe are positively impacting the lives of children around the world.Learn more about the charities we've partnered with and the efforts they're supporting around the world.
Enter to win a three month subscription to Little Passports for a child in your life! This is a $33 value.
1.) To enter to win visit http://www.littlepassports.com/ and leave a comment here letting me know something you learned, or a favorite feature not mentioned in this blog post.
Try to show that you actually did visit the site.
Please don't just comment with "Enter me" or "Sounds great". That totally annoys me. Those entries are not eligible to win.
One winner will be chosen by random number generator.
This giveaway is open to those with a US mailing address.
2) Daily entry available! Simply Vote for my mom, Cathy, in the Single Sensational Act contest. Comment here with the number of your vote. You can do this once per day!
3.) Email subscribers get an extra entry for as long as their subscription is active.
Already a subscriber? Leave me a separate comment on this post to let me know you're interested in this giveaway.
Want to subscribe? Just click here:  Subscribe to Mom Most Traveled by Email (Only verified subscriptions are entered for all the giveaways.)
4.) One extra entry for every social bookmarking site you submit this post to (examples: Digg, StumbleUpon, posting on Facebook). Leave a comment for each with your user name.
4.) Twitter about this giveaway (include a link to this page, @LittlePassports and @MomMostTraveled ) and comment here with your Twitter name.
5.) Blog about this giveaway, including a link to this post AND http://www.littlepassports.com/
You have lots of chances for extra entries!
This contest will close on August 24, 12 midnight CST