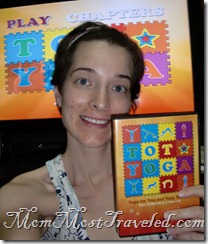 I was interested to review Tot Yoga – Yoga for You and Your Toddler From 10 Months to 3 Years Old for use with my preschool class.
I have never done yoga before (except for another yoga for kids DVD I own), but I do incorporate movement activities into our daily classroom routine and was interested in moving beyond "Head, Shoulders, Knees, and Toes".
I expected a yoga-workout-video type approach with Tot Yoga, but it is actually not a "follow along" format.
Tot Yoga is divided into three parts. The first two parts are footage of a parent/child yoga class with narration and tips from Registered Yoga Teacher Khadi Madama.
I benefited from seeing the way Khadi Madama introduced the poses to the children in her class, and the overall tone of her instruction.
Tot Yoga incorporates animal poses, which were very well received in my preschool class.
I didn't watch the video WITH my class, but used what I learned in Tot Yoga to bring the same techniques to my students.
We did the "dragonfly", the "lion pose" and the "lion's breath", and other basic poses.
My students were very receptive and actually laid down with their eyes closed when the "lion" was sleeping.
Khadi Madama uses restful poses in Tot Yoga and suggests them as a way to transition your toddler into nap time.
The third section of the DVD is actually a workout for parents to enjoy once your child is taking his or her nap!
It is a 20 minute routine designed for stretching, strengthening, and relaxing.
I am making an effort to include more of those things in my day, because I can get quite stressed being surrounded by preschoolers from 7:50 until 2:45, then coming home to a 2 and 5 year old (my 5 year old is also in my class from 11:30 until 2:45!).
Tot Yoga was a great introduction for a novice like myself. I'm looking forward to incorporating more yoga into my music and movement curriculum!
Thank you to Tuesdays at Ten, Ltd. for providing a review copy of Tot Yoga.
1.) To enter to win a copy of Tot Yoga on DVD, vist TotYoga.com and leave a comment here with something you learned.
Try to show that you actually did visit the site.
One winner will be chosen at random.
2.) Email subscribers get an extra entry for as long as their subscription is active.
Already a subscriber? Leave me a separate comment on this post to let me know you're interested in this giveaway.
Want to subscribe? Just click here:  Subscribe to Mom Most Traveled by Email (Only verified subscriptions are entered for all the giveaways.)
3.) Twitter about this giveaway (include a link to this post, @TotYoga and@MomMostTraveled ) and comment here with your Twitter name. (once daily)
4.) Blog about this giveaway, including a link to this post. Leave me a comment with the link so I can check your post!
This giveaway is open to those with a US mailing address.
This contest will close on March 4, 2010, a midnight CST.
Winners will be notified by email and have 72 hours to respond.