I have never had great faith in electric massagers, they always seem like "as seen on TV" false promises. But I got to review a powerful body massager called Sync. It is the difference between driving a tricycle (crappy massagers) and a Cadillac (Sync).
It has a super long handle so that it can be used solo in hard to reach areas (think neck, back, and shoulders).
It has a wireless remote, which is fun but I haven't quite figured out how to use it when I am by myself. I gave a friend a back massage for research purposes and let them control the massage remote while I smushed the massager into their back and shoulders.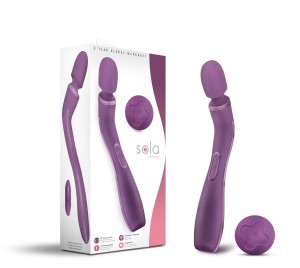 The Sync is made of silicone and is waterproof, fully submersible.
Check it out on the sola website!