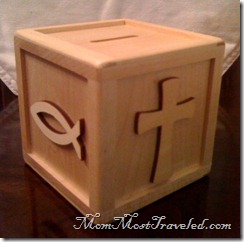 The Blessing Bank is a beautiful piggy bank designed to teach kids to give back and help others.
The handmade hardwood keepsake banks are to be filled with the goal of giving the money to someone in need.
Inspired by the biblical quote "it is more blessed to give than to
receive", teach your child each time they get money to set aside a portion for "blessing" others.
Did your child get "too much" for Christmas this year? Did you say to yourself, "Something needs to change."
That kid needs to learn the Joy of Giving.
Blessing Banks are available in handcrafted hardwoods for both boys and girls, hand-painted ceramic, or a hammered, silver-plated style.
There are also cute tiny drawstring bags called Little Blessing Bags that your child can carry with them in case you encounter someone with an immediate need.
Take Little Blessing Bags along when you are driving, traveling, volunteering, or for church offerings.
I think it is actually easy to teach children the lifelong principle and joy of giving.
They enjoy it and it feels good.
Remember little Michael Banks in Mary Poppins? He wanted to use his "tuppence" (two-pence?) to feed the birds! But his dad said it was a waste!