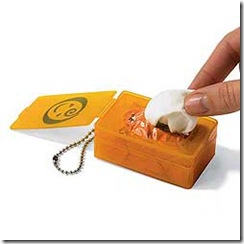 Teeny Towels are a great product from Parents of Invention that allow children and care givers easy access to a convenient pack of cleansing wipes.
Small and convenient, the Anti-Bacterial Mini-Wipes are made with all-natural ingredients. This is a safe way to clean curious hands.
Teeny Towels have a handy key-chain dispenser that allows them to be clipped onto your purse, diaper bag, stroller, backpack, belt loop…anywhere you want!
My favorite are the Insect Repellant Mini-Wipes. They are all-natural, DEET-free, and have a light, citrus smell. If you live down south, these Insect Repellant Mini-Wipes are a must-have for keeping mosquitoes at bay!
Since the wipes are all-natural, I allow my preschooler to use them *all by himself*, which is very exciting when you are barely four years old!
I like having Teeny Towels handy wherever we travel; be it accross the globe or to the grocery store. It pays to be prepared when out and about with children; you never know what they might decide to pick up!
Parents of Invention are giving away a set of Anti-Bacterial Mini-Wipes AND Insect Repellent Mini-Wipes to TWO Mom Most Traveled readers!
To enter for your chance to win, leave me a comment telling me
Where would you like to use the Anti-Bacterial Teeny Towels?
Where would you take your Insect Repellent Mini-Wipes?
TWO winners will be chosen at random.