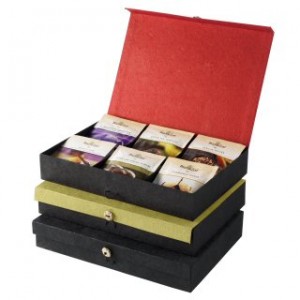 Good morning! I started my day off with a cup of English Breakfast tea. It is one of my favorite black teas. I also like Earl Grey, no sugar, a little milk.
A lot of people take tea very seriously. In Beijing, I once attended a tea tasting that would rival any wine tasting in terms of intrigue and ceremony.
Mighty Leaf Tea has everything for serious tea fans, as a purveyor of gourmet teas and an array of tea-related accessories.
The Abaca Tea Box offers a sampling of gourmet Mighty Leaf Tea in an attractive container, handcrafted of tree-free Abaca plant fibers, cogon grass, and sealed with a whittled coconut-shell button.
The Abaca Tea Box is available in three different colors, and your choice of three different assortments of tea!
Each box comes filled with 30 tea bags, each sewn as staple-free, biodegrable, silken tea pouches:
The Holiday Red Tea Box includes the following seasonally festive blends: Organic Breakfast, Bombay Chai, Marrakesh Mint, Organic Hojicha Green Tea, Rainforest Mate and Ginger Twist.

The green and black Abaca Tea Boxes include the following pouches: Darjeeling Choice Estate, Orange Dulce, Green Tea Tropical, White Orchard, Chamomile Citrus and Rainforest Maté.
Mighty Leaf Tea puts a lot of time, research, and thought into making delicious tea!
Mighty Leaf Tea has a good, rich flavor that doesn't turn bitter.
There are so many things that make the Abaca Tea Box an exceptional gift: the flavor, the scent, the sleek look, and the price! At only $24.95, this is a wow-inducing gift for any discerning palate on your Christmas list.
Mighty Leaf Tea is giving an Abaca Tea Box to one Mom Most Traveled Tea Party guest!
To enter, visit Mighty Leaf Tea and tell me another item in their store that caught your attention.
One winner will be chosen at random.
This giveaway will close on Friday, November 21, 12 midnight.
*Congrats to Julie! She won with her extra entry of having the Tea Party button on her blog!*