Taraluna.com has a fantastique selection of eco-friendly and fair trade gifts for all occassions, and you can use coupon code "CANCAN" for 20% off store wide!
I pack my lunch every single day to work. I am vegetarian; actually more of a high-raw vegan. So my diet is kind of specialized.
When I pack giant salads, I use my
I have had a To Go Ware 2-Tier Stainless Steel Carrier for about a year now (see my video review from a year ago!).
I recently upgraded my To Go Ware 2-Tier Stainless Steel Carrier by adding some super cool accessories.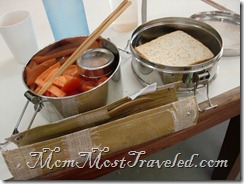 On this day, I packed some raw carrots and a home made bean burger that I packed in my  I think in the small container I put some sundried tomatoes.
It packs up nicely in my To-Go Ware 2-Tier Food Carrier Sling Bag, which even has a side pocket designed to hold the To-Go Ware Bamboo Utensil Set.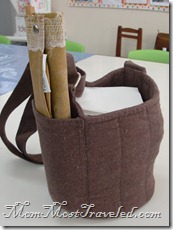 The To-Go Ware Bamboo Utensil Set is the tan thing sticking out of the side there. It folds up and snaps securely to contain the set of bamboo chopsticks, knife, fork, and spoon. They are made from a nice quality, smooth, finished bamboo. Not the rough cheapy stuff!
On days when I have less volume of food, (stir fried veggies and rice take up less room than a huge raw salad), I use my Eco LunchBox.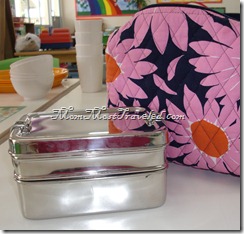 The Eco LunchBox is cute and compact, a two-tier stainless steel, rectangular lunch box that also comes with a smaller container that nests inside (for sauces, etc.)
I like the size of it, and I like to pack it in my purdy flowery bag along with a whole piece of fruit and my To-Go Ware Bamboo Utensil Set.
Now, word to the wise, both of these containers will leak if you put something liquid inside. On those days, I put the (soy sauce, for instance) in a tiny sealable container within the larger container.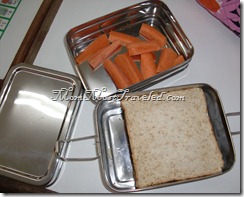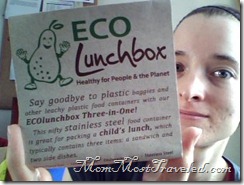 I carry all kinds of stuff to school and back in my Fair Trade Eco Shopping Bag from Taraluna.com.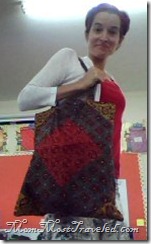 This is a reusable shopping bag made from locally grown and woven cotton and decorated by hand-block printing with 100% natural dyes.
Inside are the words Fair Trade = Justice + Peace + Love!
This bag seems bottomless and can hold quite a lot. I have inspired jealousy in at least two friends with my awesome Eco Shopping Bag!
Check out other envy-inducing gifts at Taraluna.com!