I am chillin' in the JFK airport…for the past many hours. I'm not jogging or doing backflips, but I totally could whilst still enjoying tunes through my Yurbuds Ironman Series Red/Black In-ear Sport Headphones.
I picked these babies up at a recent product showcase, and I'm very impressed by the comfort AND the sound quality coming out of these soft wee mites.
Yurbuds are the number one sport earphones!
They "Twist Lock" into place for a secure fit that never falls out even under the most intense workout conditions. They are water proof, sweat proof, and awesome.
Yurbuds are ergonomically designed to avoid nerve rich areas of the ear. Made with medical grade silicone, Yurbuds are ultra soft and comfortable for hours on end.
I tested them out with my exercise mix…in an airport.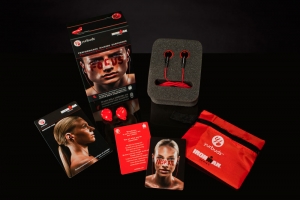 True, I wasn't excersizing, but my ears were totally at a party that no one else was invited to.
Hey Ya

Bombs Over Bagdad

Goin On (Gnarls Barkley)

Wavin Flag (coca-cola celebration mix)

Lisztomania

Home (edward sharp)

Just Can't Get Enough (B E Peas)
I didn't really expect good sound out of these; I thought they were more of a gimmick because of the exercise angle. But dang, my Yurbuds have better bass quality than any of my other headphones.
Learn more at http://www.yurbuds.com/, and get you some.