This is my first Yankee Winter and I can't WAIT to wear sandals again.
Since I am a grown-up now, and I resolve to dress like one, I'm inspired to have a  "New Year, New Wardrobe, New Earth".
Kalsø Earth® Shoes is doing a New Thing with their Spring/Summer collection featuring a "positive heel" rather than their signature negative heel technology
Here I am in spring-ish clothes, even though my coat is on the sidewalk waiting for me to put it back on. See my "I'm Cold" smile?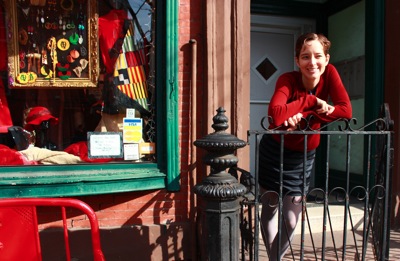 Thanks to Kalso Earth Shoes I got these cute Jacaranda sandals with a wedge heel that boosts me 2.09 inches.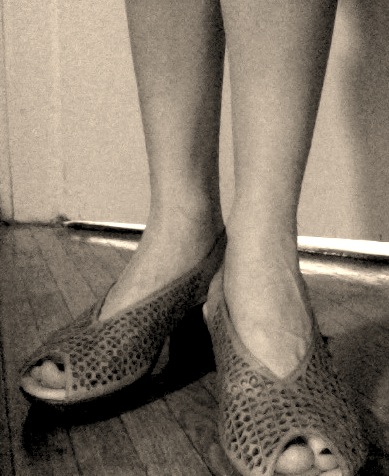 I tried them with a long trouser but I think they prefer to be shown off. I have to put these in reserve for no-socks-needed weather with a cute sun dress.
I can't wait to wear a sun dress. I mean, without freezing.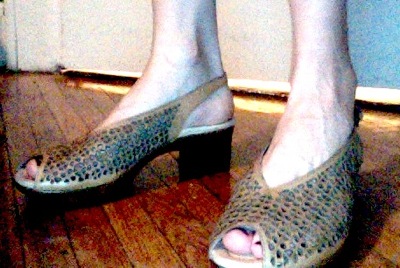 You might be familiar with Earth®'s Negative Heel shoes. The new line now offers styles with "positive heel" heights that let you soar to moderate heights while remaining comfortable and of course looking stylish.
The new Earth@ does not have "negative" heel technology BUT rest assure, the "negative" heel shoes live strong under it's original name, Kalsø Earth® Shoes.
The Spring/Summer 2012 Earth® Collection is all under $100 and is made of real leather.
I have to walk a lot, and I definitely appreciate the padded heel area to displace shock, the reinforced arch support t, and the latex cushioning layer. These are a totally different league apart from flip flops!
There is a Spa Sweepstakes currently running on the Earth website! Enter to win a trip for you and a guest to one of three spa locations to be determined by Sponsor (subject to availability at time of booking), including round trip coach airfare and, 4 days/3 nights hotel stay based on double occupancy. Winner must travel by no later than April 23, 2013. Approximate retail value: $3000.00.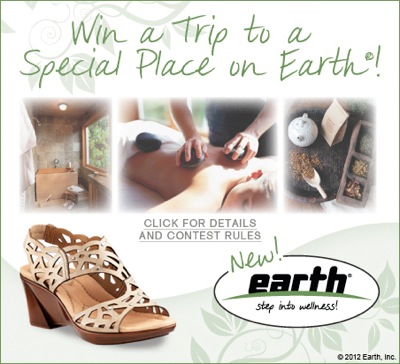 Check out the Earth Facebook page.
Contemporary designs. Contemporary comfort. Everyday value.

It's Earth®. A modern collection of dress casual footwear, grounded in the ideals of promoting a healthy lifestyle. From dress styles and wedges, to casual styles, to everything inbetween, new Earth® styles deliver remarkably against their value with 
a comfort footbed that delivers wellness into every step.

Earth®.  Step Into Wellness!
Which pair of Kalsø Earth® Shoes sandals catch your eye?
I wouldn't mind some of the boots, too. I mean, as long as it is still cold.
I was compensated by Global Influence as part of a Bookieboo LLC campaign w/ Earth Footwear.