Thank you to Crocs for sponsoring this blog post. Please click here to learn more about Crocs' new Back to School line.
I was selected for this sponsorship by the Clever Girls Collective.
All opinions expressed here are my own.
…
I will admit, I am one of those people who initially snubbed crocs from a fashion angle.
I was first presented a pair in 2004, just before the crocs craze explosion. They were originally marketed to backpackers/hikers, and my brother bought me some for Christmas at the local outdoor store. I liked wearing them in Laos, traipsing up and down dirty roads and then hosing them off at the end of a long day, but I didn't go buy one in every color (like SOME members of my family).
When my oldest son first started to preschool, the school he attended had actually banned Crocs. I was surprised, but once they explained the reasoning, I understood. The problem was that  they weren't really suited for outdoor play and running, and kids were getting ankles twisted on the playgroud.
But now, Crocs has all kinds of new styles for any kind of purpose, including sneaker-esque styles that are totally cool (and I'm sure you could run super fast in them if you were into that). You could hardly recognize them as "crocs" brand, except for that wee logo.
THIS is my favorite style of crocs for school: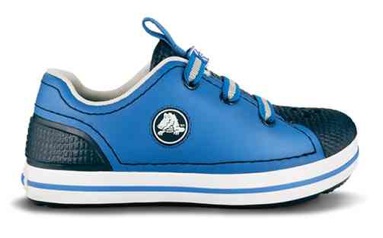 I am keeping my eyes peeled for a deal on these, the Crocband Sneak Kids, for my wide-footed independent almost-four-year-old.
Crocs have really caught on all over the world. I have seen them in China, Laos, Thailand, Vietnam, Singapore, Malaysia, Bahamas, and of course every state in the US. It is great to see villagers in Laos have access to a durable and affordable shoe like crocs.
Crocs made this fun animated music video. You can watch it and find the hidden "Easter Eggs" in the video, which will provide you with a surprise when you make a Crocs.com purchase!
Here is your Easter Egg clue:

And here is the video:
I wonder what awesomeness crocs will come up with next?