I love finding "low-tech" toys and activities that hold my children's attention.
My newest discovery? Morph-o-Scopes from Ooz and Oz!
What is it? Why is it awesome?
Morph-O-Scopes are an optical illusion toy, which comes in a kit containing some bendy reflective shiny things, and crazy warped images to color.
You fold the shiny thing into a "cup", then look at the reflected image
to make sense of the coloring page.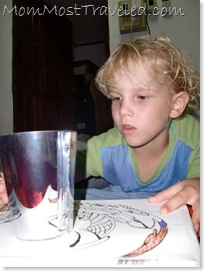 It is like a reverse fun house mirror; when your child colors the morphed shapes on the page, color magically appears in the right places in the perfect cartoon reflections.
Beyond coloring, kids connect dots and lines to complete morphed drawings, create their own morph picture, navigate morphed mazes, decode slant art, and other crazy optical tricks.
We have the Sports of All Sorts Kit, which has received numerous industry awards, including The Toy Man Award of Excellence, The Toy Man Editors Choice Award, The Toy Man Seal of Approval, Dr. Toy Best Children's Vacation Products, and accolades from the National Association for Gifted Children / Parenting for High Potential Magazine.
Jojo is not normally a coloring enthusiast (I recently had to force him to complete his school coloring contest entry), but the "magic" of the Morph-
o-Scope holds his attention.
These pictures were taken on the first day he saw it, but today, 3 weeks later, Jojo again sat patiently  completing the coloring and started asking me question about different colors in the included crayons.
It led to an interesting discussion about differentiation between colors like blue-green and blue-violet.
Deeds wanted to get in on the fun, and luckily the Sports of All Sorts Kit includes two reflective thingies. I set him up with the reflective thingy and a blank piece of paper, which was enough to satisfy him.
I love the possibilities for Morph-o-Scopes; they are inexpensive and available in party packs and classroom packs. You can even get some customized morphed images!
There is a CIRCUS KIT, the ZOE'S ZOO KIT, and also packets with one reflective thingy and 5 coloring pages. The packet themes are DISTORTED DINOS, FAIRIES FANTASY, STRETCHED PETS, and TWISTED PAJAMA PARTY.
A party pack sounds like a fun idea to me! I love the available themes, especially the pirate option:
Thank you, Ooz and Oz, for providing the Sports of All Sorts Kit for our review.
Morph-o-Scopes can be purchased at http://www.oozandoz.com/, or you can buy Morph-o-Scopes on Amazon!