To celebrate this Earth Day, Tide is encouraging everyone to take a load off the energy grid, their wallets and the environment by making one simple change – washing in cold water.
Switching to washing in cold water saves up to 80% of the energy used per load and Tide Coldwater detergent is specially formulated to get clothes clean when they are washed in cold water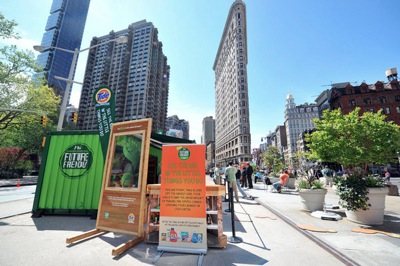 .
To spread the word, Tide and Future Friendly hosted events in New York and Los Angeles.
Even more exciting, you can have a chance to win an energy saving washer and dryer and a one year supply of Tide Coldwater in the Take A Load Off sweepstakes on the Future Friendly Facebook page. 
An April 18th,  I went to the Tide Coldwater Take A Load Off event in New York at Madison Square Park.
I was a guest of shespeaks and Tide. They sent a car to pick me up in Brooklyn and drive me to Madison Square Park. I was so excited to have a ride instead of taking public transportation, I wore the least practical shoes I own, some four inch wedges.
After a good lunch at Sagaponack, we learned amazing facts about Tide Coldwater and the environmental and financial benefits to washing laundry in cold water, and interacted with the adorably pregnant spokesperson for Tide Coldwater, Vanessa Lachey.
Did you know if everyone in the US used cold water to do laundry, the energy saved could power the Empire State Building for 444.6 years? Amazing!
Make the Promise to switch to washing in cold water on the
Future Friendly Facebook page
and you'll be entered in a
sweepstakes
to win a High Efficiency Washer and Dryer and a one-year supply of Tide Coldwater! Enter by May 13th.