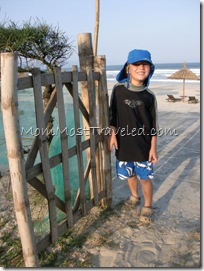 We only had one full day at the beach (and two half days), and the boys and I took full advantage!
Jojo LOVES the beach. He squeals and rolls around in the waves the whole time.
The beach at our hotel in Danang was beautiful and clean and not crowded.
However the days that we were there, the surf was SO ROUGH! I was nervous most of the time Jojo was in the water.
Even at knee-deep levels, Jojo would lay down in the water and let the waves pull him waaaayy out, until I couldn't stand it anymore and would start barking at him to come back. He can't actually swim.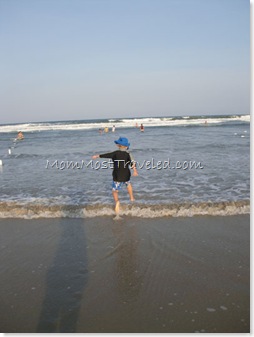 There was a life guard on duty but how can you save someone tumbling under the waves? I'm one of those morbid mommies.
I stood with my feet in the water the whole time Jojo played, ready to rescue him!
Deeds, on the other hand, was a lot more cautious.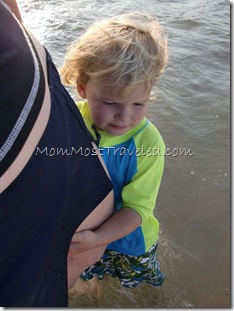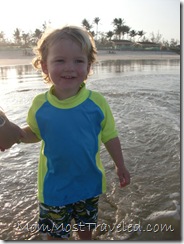 But even Deeds started to giggle and squeal when the waves crashed into us. And the salt water did wonders for the eczema on his ankles.
Seeing Jojo's excitement and Deeds's improved skin made me wish that we could come to the beach more often.
We are planning a trip to Japan in April (woot!) but I think it will be too cold to do any swimming yet.
I love this picture of Jojo. I think I said something stupid to make him laugh.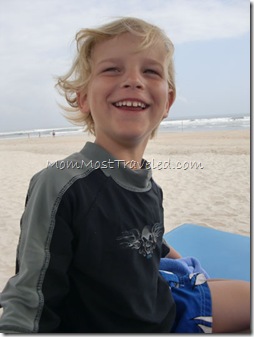 He likes to play this "game" where he says a nonsensical word and then I have to say one. And on and on. Usually he starts of with "sha-die-die!"
At each of our family beach trips, I have been able to take a picture of Deeds snuggled up on his Papa like this:
The boy gets sleepy when he hears the sound of ocean waves!
He also takes the rinsing of the sand ritual very seriously. He wants to make sure NO sand is on his little body!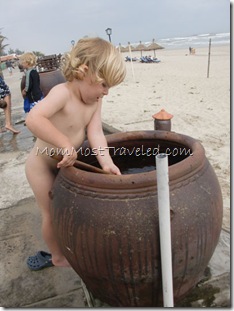 Next stop, Ho Chi Minh City!