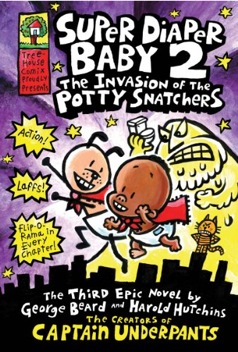 If you have a primary school student in your household, you probably know about Captain Underpants.
In honor of Super Diaper Baby 2, the newest release from Captain Underpants creator Dav Pilkey, I was given the opportunity to ask the author a couple of interview questions!
CanCan: I read that you were diagnosed with ADHD and dyslexia. I am a parent of an intensely creative child diagnosed with ADHD; I would love inspiration about what helped you to channel your creativity and inspired your work.
Dav Pilkey: I think most of the stories are inspired by memories from my childhood–by the feelings of helplessness and frustration I felt (and I'm sure most kids feel) when I was constantly surrounded by adults who were either mean, dumb, or unfair (and sometimes all three). "Kid empowerment" is a very strong theme in my books.
CanCan: Your books are so authentically hilarious and spot on with kid humor appeal. I am a teacher and the Captain Underpants series is the most popular in the library (seriously, they kept a tally). How do you stay in touch with that side of you, even when you have to do grown up boring things like pay bills and negotiate contracts?
Dav Pilkey: George and Harold are both baed on me as a kid, so I'm really just trying to write from the perspective of myself– as a kid.
I love the fun and challenge of "ghostwriting" for George and Harold because they see things a little differently than I do. Often I'll have to abandon an idea or a joke because I know that George and Harold wouldn't have liked it or thought it was funny. It is OK though, because it forces me to think of better ideas and better jokes.
In Super Diaper Baby 2: The Invasion of the Potty Snatchers, George and Harold create their most epic novel yet! Evil genius Dr. Dilbert Dinkle awakens one day transformed into a walking, talking puddle of pee, and vows to destroy every toilet in town. Will the devious Dr. Dinkle and his conniving cat, Petey, ruin restrooms for the rest of us?
This post is part of a multi-stop blog tour promoting Super Diaper Baby 2: The Invasion of the Potty Snatchers. Visit the other stops on the tour!
June 27 Tree, Root & Twig
June 29 5MinutesForBooks
July 1 Susan Heim On Parenting
July 5 Mom Most Traveled
July 7 Momma Findings
About the author/illustrator Dav Pilkey has written and illustrated several popular award-winning books for children. The Adventures of Captain Underpants, which has nearly one million copies in print, was an American Bookseller Pick of the Lists and a Publishers Weekly "Cuffie" Award winner for the Funniest Book of the Year; Dog Breath was awarded the California Young Reader Medal; The Paperboy was chosen as a Caldecott Honor Book. Mr. Pilkey also illustrated the IRA-CBC Children's Choice Award-winning Dumb Bunnies books.
I have a giveaway for MomMostTraveled readers, courtesy of Scholastic!
One (1) winner will receive:
Super Diaper Baby 2: The Invasion of the Potty Snatchers

PLUS the first book! The Adventures of Super Diaper baby
1.) To enter, leave me a comment about a time in your childhood you felt like adults just didn't "get it".
2.) Email subscribers get an extra entry for as long as their subscription is active.
Already a subscriber? Leave me a separate comment on this post to let me know you're interested in this giveaway.
Not yet a subscriber? Subscribe to Mom Most Traveled by Email (Only verified subscriptions are entered for all the giveaways.)
3.) Twitter about this giveaway (include a link to this post, @Scholastic and @MomMostTraveled) and comment here with your Twitter name. (once daily)
This giveaway is open to US residents only. Contest will close on July 18, 2011, midnight EST
Giveaways open to US Mailing Addresses Only.
Prizing courtesy of Scholastic