When I went to Jamaica in October, I enjoyed some super strong ginger beer. Did you know that in the old days, soft drinks were used as herbal tonics?
Reed's brews are hand crafted in small batches by expert brewmasters, using only fresh herbs, roots, spices and fruits.
They don't use sugar, preservatives or artificial anything!
I was sent a delicious selection of Reed's brews, including Reed's Original Ginger Brew, a Jamaican recipe for homemade ginger ale using 17 grams of fresh ginger root, lemon, lime, honey, fructose, pineapple, herbs and spices.
If you REALLY love you some ginger, they kick it up a notch with Reed's Extra Ginger Brew …it has 26 grams of fresh ginger root for a stronger bite.
Reed's Premium Ginger Brew is the wholesome ingredients version of Reed's Original Ginger Brew, sweetened only with honey and pineapple juice.
Reeds Raspberry Ginger Brew is brewed from 17 grams of fresh ginger root, raspberry juice, and lime. It is 20% raspberry juice and sweetened with fruit juice and fructose.
Reed's Spiced Apple Brew uses 8 grams of fresh ginger root, the finest tart German apple juice, and such apple pie spices as cinnamon, cloves, and allspice. Spiced Apple Brew is 50% apple juice and sweetened with fruit juice and fructose.
Reed's Cherry Ginger Brew Our newest addition to the Ginger Brew Family. Freshly brewed from: sparkling filtered water, fructose,22 grams of fresh ginger root, cherry juice from concentrate, and spices.
I slowly but surely made my way through each and every flavor…I kept telling myself they were delicious tonics for my soul. Mmmm!
SNAP Infusion is SUPERCANDY.
Bean, Mel, Gum and Tart are four new low calorie snacks to kick sweet cravings to the curb. Crafted using the highest quality, natural ingredients, SNAP Infusion candies are loaded with B vitamins, antioxidants and electrolytes.
I didn't find the gum very delicious, but I did like the MEL and BEAN a lot. I didn't get to sample Tart…I don't remember Gummy, I don't think I had any of those either. I would definitely snack on these if I had access to them though. I love candy!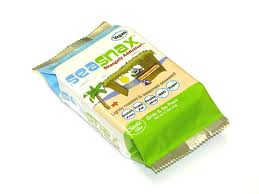 …
As you know, I lived in Asia for many years, where I acquired a taste for sea weed.
SeaSnax
is the first ever Non-GMO Project Verified roasted seaweed snack which is Vegan and Gluten-Free and made using 100% olive oil and just a pinch of sea salt — just three all natural ingredients!
Seasnax
are a low fat, cholesterol free, crunchy and delicious available in Classic (olive oil and sea salt), Toasty Onion, Wasabi & Spicy Chipotle!
…
I am a big fan of Good Earth teas. I won't lie; I feel fancy when I drink them. Its true.
One of my favorite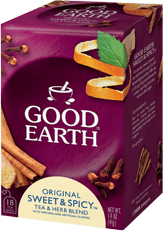 Good Earth Tea flavors is Sweet & Spicy" it is cinnamon and orange that is somehow sweet without having sugar in it.
Its distinctive cinnamony flavor is so sweet and delicious, you don't need to add anything but water. Sugar free, zero calorie, and available in decaf, it feels indulgent without any strikes against your health….