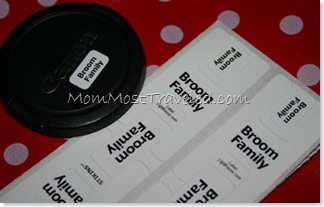 I have been introduced to a great company that makes personalized sticky labels for the whole family!
Stikins are personalized labels that can withstand washer, dryer, dishwasher, and other manners of abuse!
Invented by a mompreneur in 2006, Stikins are easy to apply and come in three different sizes. I think it is a great idea to print all three sizes on one sheet.
It reduces waste and just keeps things simple!
See our family order (above)? The micro labels are at the top of the picture, followed by the clothing label that ingeniously wraps around the garment tag, and next to that is the medium sized label that is great for the inside of shoes!
I have been labeling EVERYTHING with our Stikins. I used the micro labels on my camera, lens cap, and Jojo's reusable lunch containers (both the lids and the containers themselves). I'm actually always looking around the house for something that needs labeling! It is so satisfying, I totally feel like a good mom after I label something with a Stikins.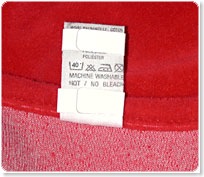 The clothing labels really are neat; when I saw them I wasn't sure about how they would work.
Jojo is really sensitive and has issues with certain clothing, so I was worried that a label on his shirt tag would bother him. I needn't have worried, because Stikins are actually soft, somewhat like thick vinyl. When the "arms" of the clothing label are wrapped around the garment tag, they don't leave any sharp, scratchy corners.
At Jojo's school they change clothes every day after outside play time, so I am thrilled to now be able to label his very special clothes, like our cool Little Capers shirt.
The clothing labels are stick-on, so no sewing or ironing is required!
I like that Stikins are very basic in design and therefore can be used for any member of the family. I don't have to worry about labeling my laptop or keys with a smiling dinosaur.
For durability, ease of use, and overall simplicity, I give Stikins from Label Lighthouse two thumbs up!
Label Lighthouse provided me with some wonderful samples of Stikins, and they also want to give a Mom Most Traveled readers their own starter package!
1.) To enter to win a Starter Package of Stikins, retail value $24.95, leave a comment here telling me who in your life is in need of some personalized labels, and what they would label with them! (You may enter once a day – subsequent entries don't require you to answer the question).
Please don't just comment with "Enter me" or "Sounds great". That totally annoys me. Those entries are not eligible to win.
One winners will be chosen at random.
This giveaway is open to those with a US or Canadian mailing address.
*Contest closed! Winner: Hooray for comment number 40, Susan C !
This contest will close May 23, 2009, 11:59 CST.
If you don't win this giveaway at Mom Most Traveled, be sure to enter to win a Super Size Package of Stikins Labels on the LabelLighthouse.com web site! That contest is open to residents of Ontario and USA and closes May 31, 2009.