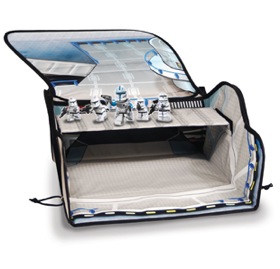 My kids are full-fledged into the "millions of small toys" phase.
Deeds has a large collection of vroom-vrooms, which he actually contains in a Hot Wheels Zip Bin.
That thing gets used every day. It even survived when our babysitter zipped it inside out.
Haha. Oh, babysitter.
Jojo has a major Lego obsession. He gets a Lego set of his choosing for his birthday and I think I got him one for Christmas as well. Even at the rate of two or three sets a year, the collection numbers hundreds of bricks.
Our storage solution for keeping the Dark Side of Lego Clutter at bay is the Neat-Oh Lego®Star Wars ZipBin® Battle Bridge Carry Case Playmat.
Yeah. Awesome name.
And this is serious awesome.
Not only is it made to contain the toys, it also unzips to become a playscape for clone troopers, Sith Lords and Jedi Knights to do battle on the suspended battle bridge.
Everything wipes clean (if the battle gets messy somehow…leave it to my kids to make a Lego battle require a wipeable surface. For real.).
Got Lego or other small collections growing in your house?
You need a ZipBin.
Enter to win your choice of ZipBin!
1.) To enter, browse the ZipBin catalog and tell me which style you like best.
2.) Email subscribers get an extra entry for as long as their subscription is active.
Already a subscriber? Leave me a separate comment on this post to let me know you're interested in this giveaway.
Not yet a subscriber? Subscribe to Mom Most Traveled by Email (Only verified subscriptions are entered for all the giveaways.)
3.) Twitter about this giveaway (include a link to this post, #giveaway and @MomMostTraveled) and comment here with your Twitter name. (once daily)
This giveaway is open to US residents only. Contest will close on May 28, 2011, midnight EST.
Prizing & samples courtesy of Neat-Oh!. Connect with @Neat_Oh on twitter and ZipBins by Neat-Oh! on Facebook.