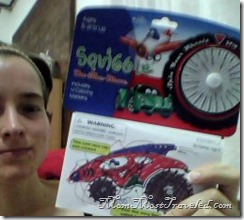 Ever on the lookout for ways to entertain my children while they are confined to a car or plane, I was happy to give the Squiggle drawing pad from RandomLine.com a try.
What is a SQUIGGLE anyway?

A squiggle is a random line. It can be squiggly, wiggly, wavy or just wacky! It's simply the start of something. A squiggle may blossom into a beautiful flower, speed off into a cool race car or simply form a funny face. It's up to you and your imagination to transform it into a work of art!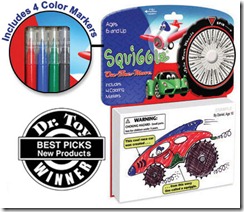 The Squggle-on-the-move drawing pad includes 4 markers stored in a flip-open, magnetic-close compartment, and a thick pad of paper, each sheet featuring a pre-printed eclectic squiggle line.
You can spin the wheel on the card at the top of the pad to give you inspiration about what form of transportation to draw.
I drew a dump truck (I think), using the squiggle as a crazy mouth:
Deeds drew a…one of these: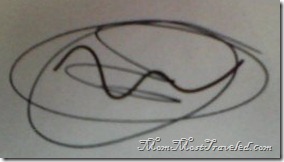 It looks like an orbit of sorts…lets go with "rocket".
I think RandomLine products are a good, no-tech way to pass the time and learn how to see things a little differently.
A fun creative exercise and entertainment all rolled into one; no batteries required!
Enter to win any On-The-Go Activity pad or Hurry Up! (your choice!)
1.) To enter to win, visit RandomLine.com and tell me which On-The-Go Activity pad or Hurry Up! you would choose, and why.
One winner will be chosen at random.
2.) Email subscribers get an extra entry for as long as their subscription is active.
Already a subscriber? Leave me a separate comment on this post to let me know you're interested in this giveaway.
Not yet a subscriber? Subscribe to Mom Most Traveled by Email (Only verified subscriptions are entered for all the giveaways.)
3.) Follow @RandomLine on Twitter.
4.) Twitter about this giveaway (include a link to this post, @RandomLine and @MomMostTraveled) and comment here with your Twitter name. (once daily)
5.) Fan Random Line on Facebook and leave a comment on their wall letting them know why you are there.
This giveaway is open to those with a US mailing address.
This contest will close on October 3, 2010, at midnight CST.