Need a lady gift? You know, Mother's Day will be here before you know it.
Also, I just had a birthday. It was great, thanks for asking.
What do you think about the gift of "flowers" that won't die?
L'Occitane's NEW Pivoine Délicate Collection reveals dazzling pink hues and subtle floral scents.
The Pivoine Délicate products have beautiful packaging that resembles the peony's gorgeous pink shades and subtle scents.
The collection includes Eau de Toilette, Hand Cream, Shimmering Powder, Eau de Toilette & Lip Gloss Duo, Lip Shine, Lipstick and Lip Balm. Price: $12 to $45.
Need a thrifty, earth friendly gift? The Sili Squeeze is a reusable, silicone squeeze pouch intended for fruit and vegetable purees, yogurt and applesauce.
Unlike the expensive, single-use disposable pouches the Sili Squeeze can be used again and again!
Squeeze with Eeeze – perfect for children ages 4+.
Libre Tea products are for health conscious, eco-friendly tea drinkers who want to enjoy tea moments on the go or at home.
I use my 9oz. Original Libre tea glass EVERY single day for loose leaf tea.
The Libre tea glasses are thermal and have a glass interior, a durable poly exterior and removable tea filter.
All Libre tea glasses are BPA free and great for any beverage.
If you know a tea aficionado of any age or gender, I promise that they will be excited about Libre Tea products.
I should know, I lived in Asia. (LOGIC=FAULTLESS)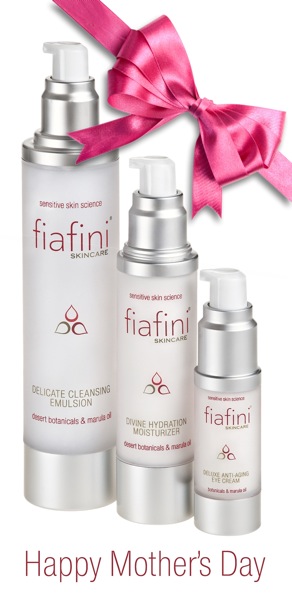 …
Do you know a lady who wants to look real purdy?
Fiafini products are vegan friendly and formulated to battle the signs of age in skin!
Delicate Cleansing Emulsion 4.0 fl oz $28.00
A lightweight daily cleanser that gently clarifies and purifies the skin, Delicate Cleansing Emulsion quickly dissolves all traces of dirt, oil and makeup from the skin while delivering powerful anti-aging benefits with Marula oil. We've formulated this creamy cleanser to help lift away toxins and environmental impurities that can stress or further damage sensitive skin, all while protecting against redness or irritation. Humectants help preserve skin's natural moisture barrier and our formula will always be free of fragrance, alcohol, mineral oil, and all parabens. No animal testing.
Divine Hydration Moisturizer 1.7 fl oz $40.00
Get the divine skin of your dreams with Fiafini! A hydrating and healing moisturizer that firms, minimizes wrinkles and restores elasticity, Divine Hydration Moisturizer is the triple-targeted solution to the most common signs of aging. Formulated to be ultra-hydrating yet never heavy, this moisturizer helps soothe and calm redness with Prickly Pear, Avocado and Evening Primrose extracts, while also reducing environmental stress on the skin. Powerful antioxidants Marula oil and vitamin E fight fine lines and wrinkles, and help visibly firm and lift the skin for complete perfection. And as with all Fiafini products, our moisturizer will always be free of fragrance, alcohol, mineral oil, and all parabens. No animal testing and Vegan.
Deluxe Anti-Aging Eye Cream 0.5 fl oz $38.50
A deeply hydrating eye cream that rejuvenates, repairs, and protects delicate skin around the eyes from environmental damage and the visible signs of aging. Formulated with Malus Domestica Fruit Cell Culture Extract—breakthrough apple seed stem cells that help maintain the healthy functioning and replication of new skin cells in the epidermis—this powerful cream also contains the powerful antioxidant Marula oil and clinically-proven peptides to help reverse the appearance of fine lines, wrinkles and crow's feet around the eyes both immediately and in the future. Nourishing botanical extracts of chamomile and licorice help decrease inflammation, improve circulation, and prevent puffiness and dark circles. The result? Skin is vital, vibrant, visibly lifted. Free of fragrance, alcohol, mineral oil, and all parabens. No animal testing and Vegan.

Maybe it would be kind of weird for Mother's Day, but EdenFantasys.com has Face skincare and Body treatments as well as intimate products for women, men, and couples.
You never know what you might find!