In early May, Sodexo hosted the first ever International Quality of Life Conference in New York City.
This summit brought together 300 leaders in the health, education, defense and corporate sectors to dialog about workplace quality of life.
Workplace quality of life is a hot topic because not only are people spending more and more time tied to the work place thanks to technology, it is also as a key economic driver for performance.
It was encouraging and eye opening to listen to very successful people dialog about goals and pain points for improve quality of life for employees, and ultimately society!
There were specialized break out sessions on space management, employee recognition, nutrition and wellness, technology, and gender balance and diversity.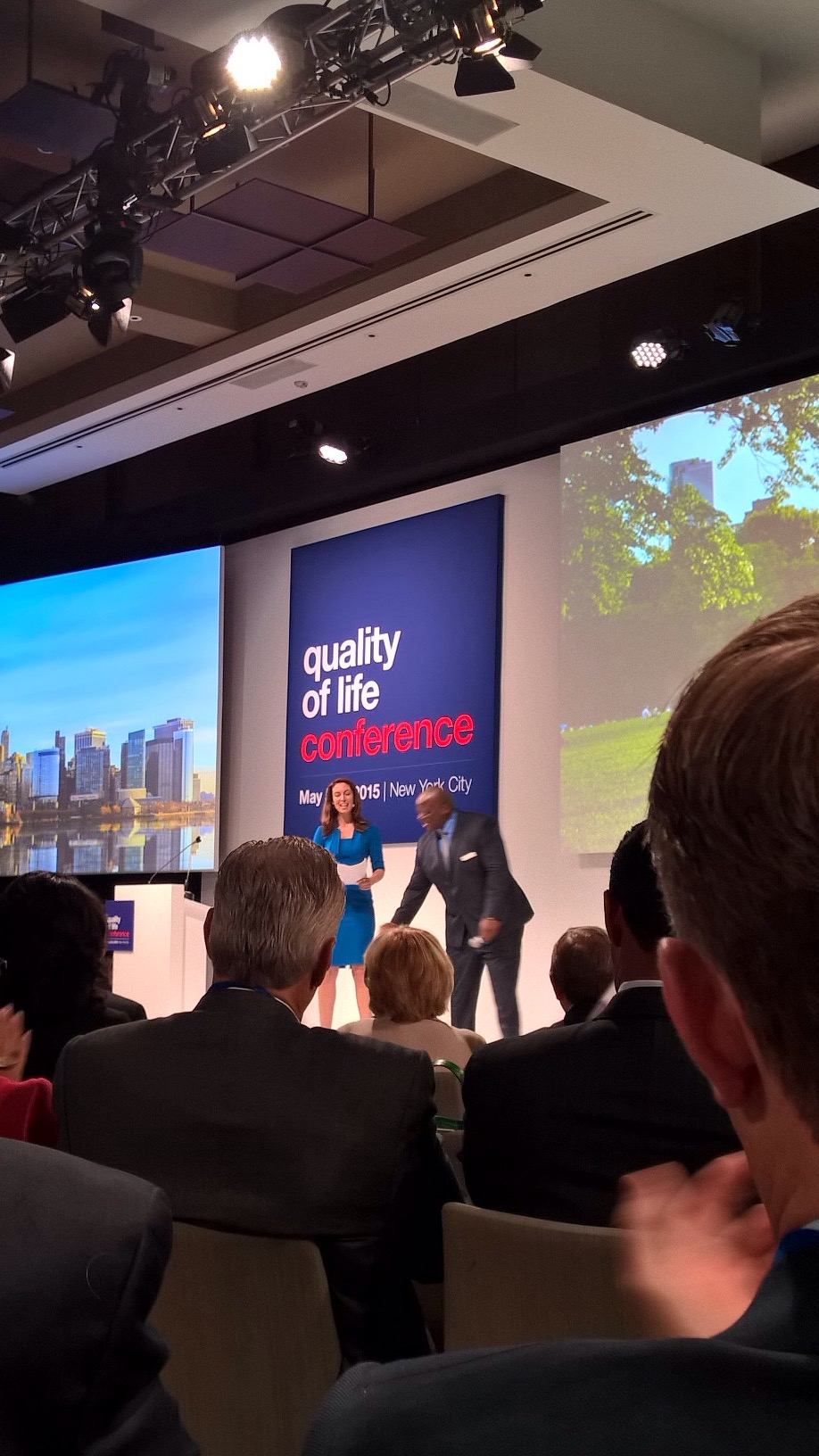 I felt spoiled to hear from speakers like Arianna Huffington (Chair, President, and Editor-In-Chief of The Huffington Post Media Group), PR. Jean Jouzel (Paleoclimate Scientist, Co-laureate Nobel Peace Prize 2007, Vetlesen Prize 2012), Mari Kiviniemi, OECD (Deputy Secretary General and former Prime Minister of Finland), Jeremy Rifkin (Economic and Social Theorist, Writer, Political Advisor), Ricardo Semler (President of Semco South America), and a beamed-in keynote by Magic Johnson.
Of course, at at Quality of Life conference, the food was amazing. I don't know why I was surprised, but good food really does make me more grateful to be alive. Besides healthy choices at lunch, we were also given fruit breaks, and access to coffee and tea.


I wrote a few months ago that getting free fruit at one of my jobs really makes me feel appreciated and cared for; a small gesture that goes a long way toward my job satisfaction!


My attempt at a conference selfie looked more like a sad precious moments doll, but trust when I say I had a good time and learned a lot.
For me, the most meaningful panel was the one about gender balance. I learned that there are so many layers to "gender issues" in the work place ranging from pay disparities to maternity leave shaming.
In many places of business, the leadership (more senior and higher paid positions) is more than 60% male. In business where the leadership is balanced at a 40% to 60% ratio of women to men leadership, performance indicators were positively impacted. This resulted in better employee engagement, stronger brand image, more likelihood of showing consistent organic growth, and greater likelihood of increasing gross profits over consecutive years.
The conclusion of the first day's events was a cocktail hour at Four World Trade Center with a
talk and exercise on the topic of Optimizing Quality of Life in the Moment: The Transformative Power of Mindfulness by Jon Kabat-Zinn.
Interestingly we were all made to be "in the moment" because each of us wore earphones to hear him speak about the clinical and neuroscience effects of mindfulness, even though we could see him standing before us. I don't think that part was planned as an exercise in mindfulness, but it definitely helped me to tap into the strength of the present moment.
Besides having learned a lot about quailty of life in the work place and picking up some skills for mindfulness, the Quality of Life conference helped me to be more aware of what I deserve and require in a work relationship to live at optimal mental, physical, and emotional health.  
I feel very blessed to have been the guest of Sodexo to experience this amazing conference!
The conference happened in early May, but catch what you missed on social media by searching #QoLConference.