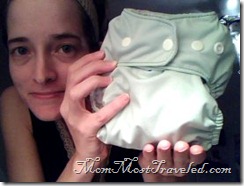 If you are a veteran cloth diapering Mama, or a newbie who isn't sure where to start, you will want to know the scoop on Smartipants.
Smartipants are a pocket diaper…sort of.
Instead of going into a pocket, the microfiber "insert" is held in place against baby's bottom with elastic straps on the diaper cover.
Each Smartipants™ reusable diaper comes with a Smart Sleeve™ Insert.
Smartipants™ diapers are both easy to use and easy to care for. Just place the absorbent insert into either side of the sleeve, and it will stay snugly in place until you remove the diaper from your baby. Once the diaper is removed, there's no need to take out the insert — it comes out in the wash!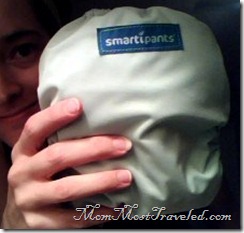 The Smart Sleeve is a great idea, because I know from experience how gross it is to shove your hand into a pocket diaper to fish out a pee-soaked insert.
Cloth diapering is a good way to keep baby's skin dry and rash free (compared to sitting in a wet plastic diaper).
Smartipants are made to last from infancy to potty training, as they adjust to fit babies from around 7 to 35 lbs.
Smartipants are now 3 for $36.95, which is a lower price point than similar cloth diapers.
Smartipants are made 100% in the USA in their own facility right in Los Angeles.
Smartipants fabric is designed to wash clean without staining. The outer fabric is both soft and waterproof.
Find out more by visiting  www.smartipants.com, the Smartipants Facebook page, or follow  @thesmartipants! on Twitter.
Enter to win a Smartipants reusable diaper in your choice of color!
1.) To enter to win, visit www.smartipants.com and leave a comment here with which color you would choose..
Try to show that you actually did visit the site.
One winner will be chosen at random.
2.) Email subscribers get an extra entry for as long as their subscription is active.
Already a subscriber? Leave me a separate comment on this post to let me know you're interested in this giveaway.
Not yet a subscriber? Subscribe to Mom Most Traveled by Email (Only verified subscriptions are entered for all the giveaways.)
3.) Twitter about this giveaway (include a link to this post, @thesmartipants and@MomMostTraveled ) and comment here with your Twitter name. (once daily)
4.) Blog about this giveaway, including a link to this post. Leave me a comment with the link so I can check your post!
5.) Fan the Smartipants Facebook page and leave me a comment letting me know you did so.
This giveaway is open to those with a US mailing address.
This contest will close on August 10, 2010, a midnight CST.