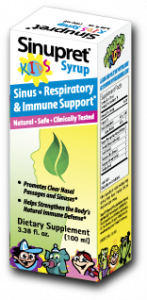 Of course we don't want our kids to get sick, but some times they do, don't they?
Deeds some how has a runny nose right this minute; yes, my child managed to catch a cold while on vacation in the tropics.
And he didn't have my permission, that's for sure. Maybe it was those dirty monkeys.
I am not an herbalist (sorry, I didn't have time for herb school), but I am extremely interested in natural remedies, especially for my little ones.
Sinupret for Kids is a safe, natural remedy that supports healthy sinus, respiratory and immune function.
It is a best-selling remedy in Germany, with over 7 million bottles sold in 2008!
Now available in the US market, Sinupret for Kids is a natural and safe cold remedy for ages two and older.
Sinupret for Kids contains European Elder, Common Sorrel, Cowslip, European Vervain and Gentian, but better than that is the list of what Sinupret for Kids does NOT contain!
This remedy does NOT contain stimulants, caffeine, ephedra or pseudoephedrine, and Sinupret has no history of dangerous side effects!
Sinupret and Sinupret for Kids are one of the world's leading herbal remedies for upper respiratory health for children and adults ages 2 and up. Sinupret for Kids is available in a cherry-flavored syrup.

Sinupret is sponsoring a fantastic giveaway for Mom Most Traveled readers!
There will be 15 winners; this giveaway is open to all!
Fifteen winners will each receive a prize pack containing:
• A copy of Dr. Bob Sears bestselling book The Healthiest Kid in the Neighborhood
• A sample of Sinupret
• Yellow children's binoculars
• Sinupret for Kids Activity Books
• Sinupret for Kids Stickers
• Mini Plush Bear
Wow! Jojo would be happy with just the binoculars.
1.) To win this generous prize pack, check out the Sinupret website and leave me a comment letting me know what things you consciously do to keep your child healthy. (You may enter once a day – subsequent entries don't require you to answer the question).
Fifteen (15) winners will be chosen at random.
This giveaway is open to US, Canada, and worldwide entrants.
This contest will close at 11:59 pm CST, on Thursday, April 30, 2009
CLOSED! Congrats to the winners: andrea v, cheryl, amy, susan, vicki, laureen, pat m, wehaf, serena, kathryn, kristy, Rajee, Donna K, Naddez, and Ellie!