Singapore was a lot of fun. I kind of compared the entire country to a theme park in my mind. Everything was so clean and organized…street food is safe to eat, the drug penalty is VERY severe so that seems to be a non-issue in society there. We stayed in the Malay part of town very close to the red light district, but the prostitution is also very discreet, unlike in Thailand. I wouldn't have noticed that the women were prostitutes if I hadn't already known what part of town we were in.
I was determined to do all of the cheesy touristy things, which is basically all Singapore has to offer. There is no "untouched, natural" part of Singapore.
We got off to a rocky start when the first place I tried to go, VOLCANOLAND was apparently out of business. Oh well. We salvaged the day by doing some sort of "luge" ride where you kind of sit on a skateboard and slide down a concrete gutter. That day was pretty uneventful because we arrived in Singapore in the afternoon and didn't get out and about until like 3pm.
The next day I think was when we hit SNOW CITY, an indoor snow playground where you can sled and….do snow things.
This was Jonas' first experience with snow.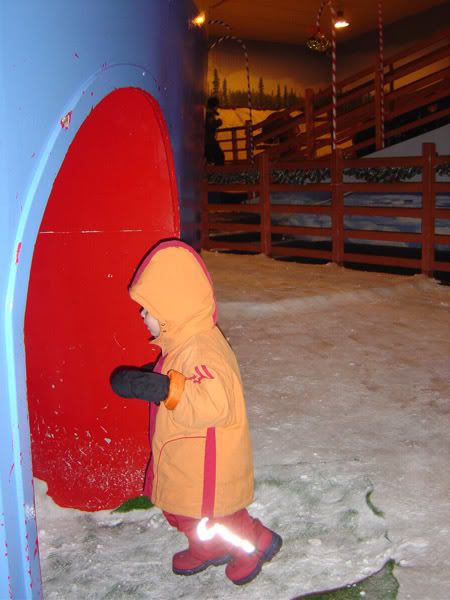 Those snow clothes were rented. Right when we went inside he took his mittens off, touched the snow, and then wanted me to put the mittens back on. He went down the sled with Papa twice before he said "bye bye, Snowman!" and wanted to go get warm again. I think it was -5 C in there. It was like a big meat locker.
So…SNOW CITY was not a hit with Jonas.
After that was a discovery museum which wasn't photo worthy. I think that afternoon we went to the Jurong Bird Park. It was okay.
The Bird Park in Malaysia was better, even though it was smaller, the birds were "free" to fly around in the park which was covered with a huge net so they couldn't escape. In Singapore they were mostly caged.
After this point I get the days mixed up but one day we went to the zoo.
It was raining.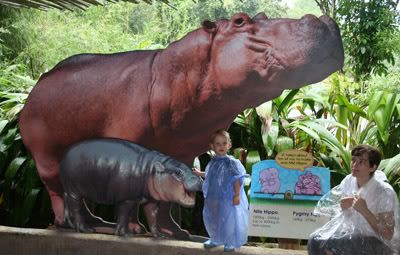 Jonas LOVED the hippos (p.s., I wasn't planning on being IN that picture), and also talked a lot about the Bah-boons (babboons).
At the end we donated some money to the zoo so we could get our picture up close with these Orangutans. Jonas just kept trying to get Nick to look at them. He was saying "LOOK, PAPA! MONKEYS!" over and over. So I never got a good photo.

This was a fun moment for Jonas, after we ate lunch in a mall. He got to ride one of those 25 cent rides with his 2 favorite celebrities.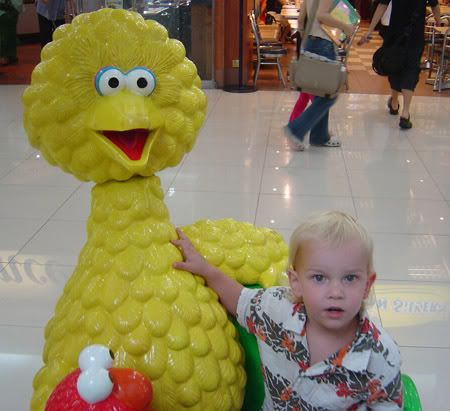 My favorite thing we did was spend time on this island called Sentosa. It had all kinds of touristy activities on it AND a beach.
So one day we went to the Sentosa Ocean World Aquarium…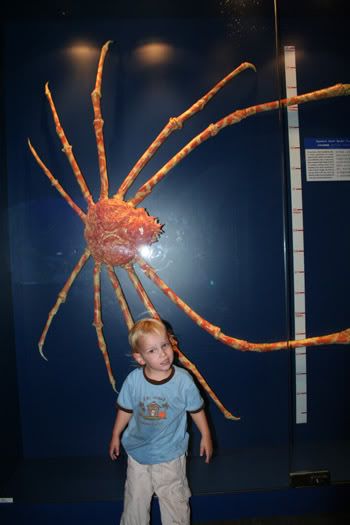 They had crabs.
And after the aquarium we took Jonas to the beach for the first time!
First he played in a big fountain near the beach, which was more interesting.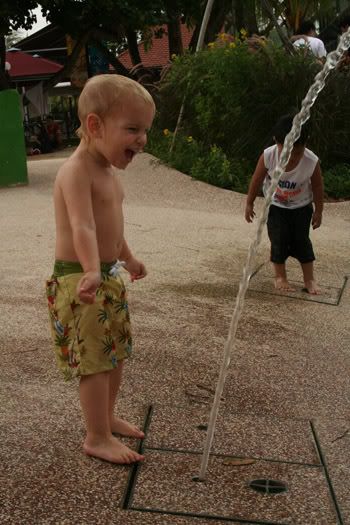 Can you find him? I was proud of him for not being afraid to get right in there with the big kids.
After the fountain fun we finally enticed him to the beach by showing him how cool the sand was.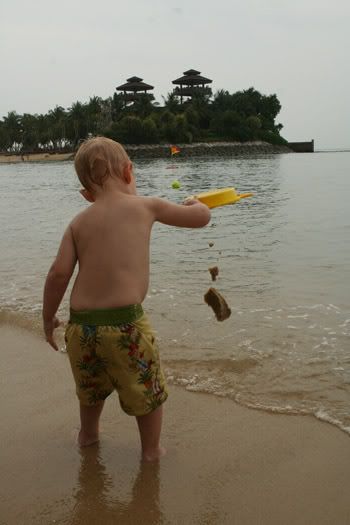 The weather was great. I didn't break a sweat.
After this, Jonas fell asleep and Nick and I watched a dolphin show. Did you know Asian dolphins are pink? Me either.
After Jonas woke up we left the island via sky car.

Probably the day after that was when we toured Chinatown. I know I have actually lived in China for a year, but I still get enamored by Chinatowns.
And I think it is a requirement for tourists in Singapore to do the Trishaw tour.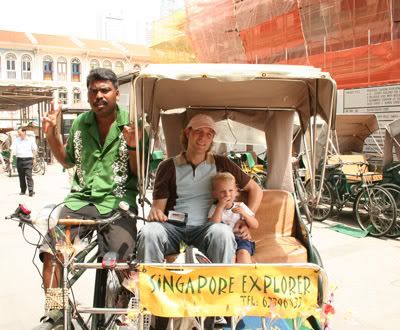 Nick left Singapore a day earlier than Jonas and I. He had to go get the car in Thailand so he could drive it to our next destination, Chiang Mai.
Jonas and I headed back to the beach. It was a Monday so it was way less crowded than the first experience.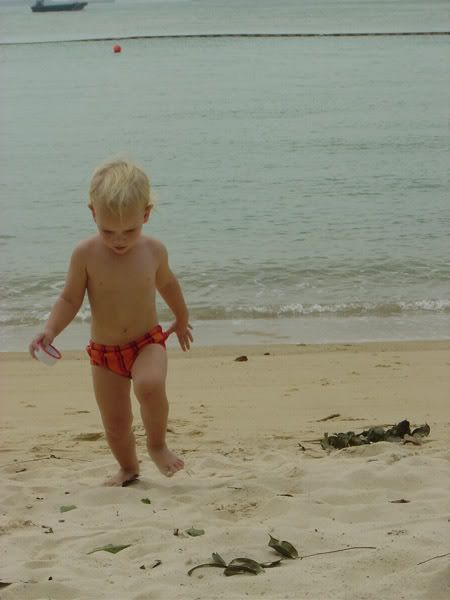 He also got to go to Toys R Us for the first time, and learned to recognize the sign. We went 3 times. The last time it was just the 2 of us and I saw some monks shopping. I thought it was weird.

The next morning we flew to Chiang Mai, Thailand and met Nick. We had a conference there. I DID get the dreaded conference virus…make that my 3rd year in a row!
But Nick and Jonas stayed healthy except for a sinus infection. After the virus I was anxious to check on the baby so I had my 12 week ultrasound 4 days earlier than I originally planned. It was a relief to see it moving around in there. No gender news yet though. (Edited to ad: THAT WAS BABY DEEDS!)
After conference we drove back to Laos with 2 of our friends who work in Tibet. We took them on our favorite Lao dinner cruise. If you came to Laos we would probably take you as well.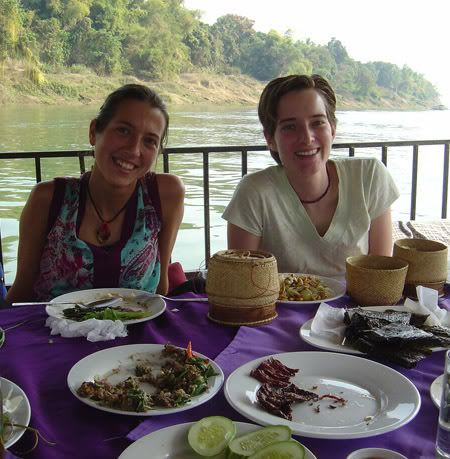 And this weekend we took them to a city 4 hours north of here called Vang Vieng, famous for its caves. We went inner tubing yesterday, which involved sitting in a giant inner tube for 2 hours while floating leisurely down a natural "lazy river"!
We all had fun, even Jonas riding in Nick's lap. We also went to a cave which really wore me out. I always end up doing more vigorous things than I would in "normal life" when I am pregnant
(WITH BABY DEEDS!).
When I was this far along with Jonas, I went to the Angkor Wat in Cambodia and was climbing around the temples for 3 days, wanting to faint. This time I climbed up a mountain and then went in the depths of the earth and wanted to faint.