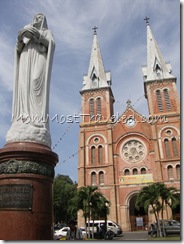 While in Saigon, we had a look at some stunning French colonial architecture.
Most impressive was the Notre Dame Cathedral. It looks like it was plucked right out of France and plopped down in Vietnam. And it kind of was, actually.
Established by French colonists, the cathedral was constructed between 1863 and 1880 from bricks imported from Marseille. All of the building materials were imported from France. That must have been quite a feat in the late 1800's!
The Mary statue in front of the cathedral has been said to cry sometimes. Although, officially, the Catholic clergy in Vietnam says that it does not.
Around the bottom of the statue are some lovely sunflowers.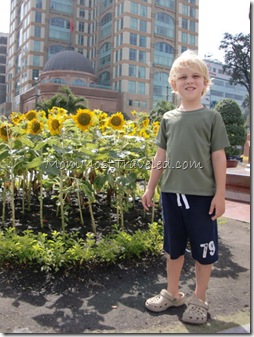 Look how huge the doors are! There was a third bracket above their heads: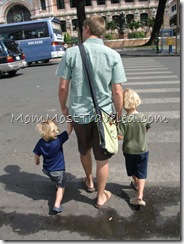 Across the street from the cathedral is another beauty: the Central Post Office, completed in 1891.
Inside the post office are beautiful historic maps and other artifacts. I felt like it would be a good setting for a serious conversation between Indiana Jones and his colleagues. You know, the scenes where he is wearing his glasses.
Under this map are gorgeous wood phone booths. Nostalgia!
The post office has many souvenirs for sale. I bought a book of old canceled Vietnamese stamps.
Jojo asked me to take this picture of the portrait of Ho Chi Minh, or as Jojo calls him "the man who died" (since we saw his dead body in Hanoi at the mausoleum).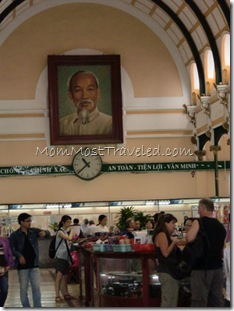 When we were leaving the post office, I saw two different couples having wedding pictures made outside of the cathedral. It must be wedding season!