We all know the old saying that "breakfast is the most important meal of the day", and it is also my favorite meal!
I have only not had breakfast a handful of times in my life, mostly because of medical fasting or sickness! But nearly one in five children across America do not have that choice, and they go without breakfast every day!
Wholesome breakfast has shown to help kids reach their full potential in the classroom. My children benefited from free breakfasts this past summer thanks to efforts by the the city government of NYC.
I have one child who is a super early riser (it has to be some kind of proclivity formed in the womb) and one sleepy head. The Early Riser gets up and pours his own cereal. The sleepy head requires being spoon fed because it is all he can do to open his mouth (and not his eyes). But either way, both children get full bellies before they go to school in the mornings.
Cold cereal is a great breakfast option for kids because they get calcium and protein from the milk, and fiber from the whole grains!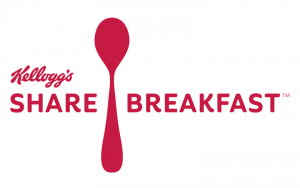 In the 3rd annual Share Breakfast movement, Kellogg's and Action for Healthy Kids® are making it easy for families everywhere to join in the effort to share one million breakfasts to children.
Kellogg's and celebrity spokesperson, Taye Diggs, are leading the charge to help end childhood hunger and are rallying families across the U.S. to help provide breakfast for kids in need.
When you complete tasks such as sharing videos, tweeting, "liking" or "pinning", Kellogg's will contribute up to $250,000 in grants to go towards school breakfast programs.

You can find the tasks on the Share Breakfast website
I joined Kellogg's in their mission to share breakfast during National Breakfast Week (March 4-8).
Kellogg's sent me some tasty Frosted Mini Wheats, which I took to work to share with my small contingency of office mates.
I love Frosted Mini Wheats (especially with the strawberry frosting!) and my kids' favorite cereal option is Fruit Loops! We all like to mix together several kinds of cereal in one bowl. It keeps things exciting, and gets us energized and powered up for an awesome day of being awesome. In the most awesome way possible.
"I participated in a campaign on behalf of Mom Central Consulting for Kellogg's. I received a product sample as well as a promotional item as a thank-you for participating."