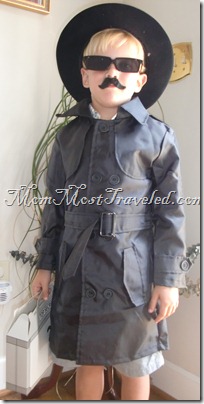 My 5-year-old is very much into the world of high adventure, good guys vs. bad guys, and super secret stuff.
He carries around a "Super Spy Book" and a "Dr. (Indiana) Jones Journal" at all times.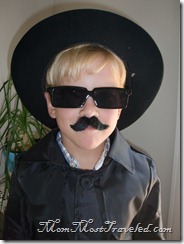 He loves his new Aeromax Jr. Secret Agent costume.
It comes with a cardboard briefcase, three stick-on mustaches, dark sunglasses with special mirrored lenses that allows you to see who is sneaking up behind you, a trench coat, fedora and plastic handcuffs.
The Secret Agent costumes is available in two youth sizes: one for ages 5-8 and one for ages 9-12. The child's sizes retail for $41.95, but mom and dad can get in on the action with an adult-sized Secret Agent costume for $54.95.
I love the play value of costumes and dress-ups.
I teach preschool, and the most popular features in my classroom are the dress-ups basket, the fake food, and the big plastic parking garage. In that order.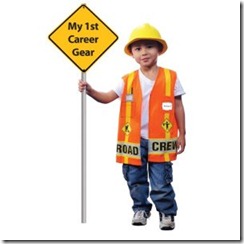 If you have a preschooler who loves to play pretend, Aeromax has a series called My 1st Career Gear, designed for Ages 3-6.
These costumes are basically over shirts (or in this case, a vest), which makes it easy for a preschooler to get in and out of without assistance.
Deeds got the Road Crew dress-up from the My 1st Career series. It retails for $10.95, and the printed yellow road stripes, construction logos and a make-pretend cell phone graphic mesh well with his current devotion to all things vehicle-related.
Check out all of the fun dress ups and costumes for every day play at http://www.aeromaxtoys.com/ !
Thank you, Aeromax, for sending me samples of the products mentioned in this review.