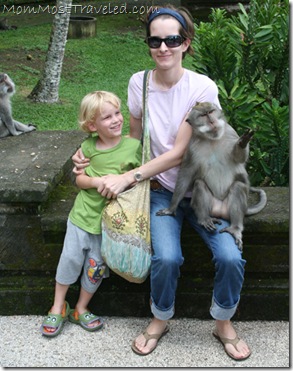 Today we visited the Sangeh Monkey Forest near Ubud, Bali.
The forest of nutmeg trees surrounds a 400 year-old temple complex. The forest, and therefore the resident primates, are thought to be sacred.
The scenery was amazing to behold, but I was on edge the entire time. The monkeys are said to be "friendly" as long as you don't touch them.
To me, the fact that they get hostile when touched means that they aren't quite worthy of the "friendly" classification. Shortly after this photo, where my unease is obvious, another monkey crawled up my back, snatched my sunglasses and ran away.
My sunglasses were rescued by one of the two "monkey whisperers" who followed us around (and saved Deedsy from being bitten several times).
The monkey whisperers (both men) were wearing sarongs and the traditional Balinese udeng/head dress.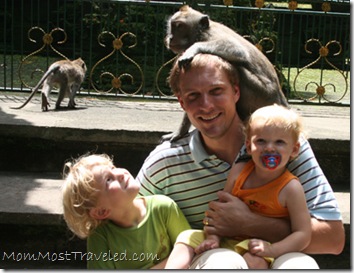 There is thought to be over 600 monkeys in this forest.
All of the trees are nutmeg trees. No wood is allowed to be cut in this forest.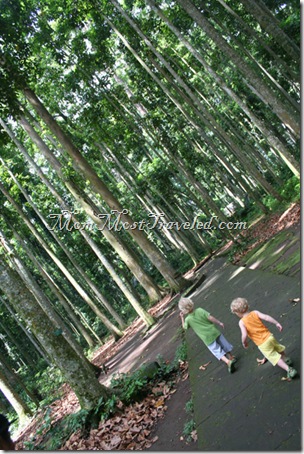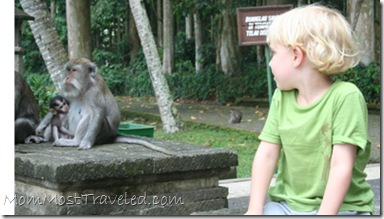 We loved seeing the baby monkeys with their Mamas! Here, Jojo and a baby monkey are having a moment of eye contact as the little one nurses.
Neither mama monkey nor baby were modest, and Jojo pointed out that it was a boy baby. He was right.