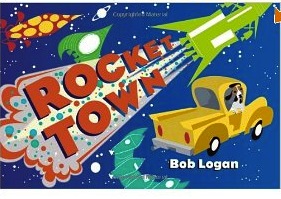 Just when I think there is nothing new under the sun in preschool literature, I find the best book in the world for 1 to 5 year olds who love things that go "vroom".
Bob Logan's Rocket Town tells the story of an astronaut and his canine companion on a journey in an old pickup, making their way through a town filled with all kinds of rockets.
The rockets are numerous and fanciful: you got your taxi rocket, your shark rocket, your school bus rocket; if it is a rocket, Rocket Town has one.
Author and illustrator Bob Logan was a story artist on feature animations such as Madagascar, Open Season, , and Cloudy with a Chance of Meatballs; we will next see his work in the forthcoming Puss in Boots!

I feel a Rocket Town birthday party them coming on…